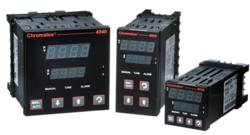 Pittsburgh, PA (PRWEB) February 25, 2013
Chromalox®, a leading manufacturer of electric heat and control introduces a new line of DIN temperature and process controllers. The new line is comprised of three main platforms: 40 Series temperature and process controllers; 50 Series limit controllers; 80 Series advanced programmable controllers with data logging. Each type of temperature controller is designed to be easy-to-use and reliable within the most demanding process and manufacturing applications. Each platform utilizes the same programming logic and feature options, thereby increasing user efficiency and reducing training costs.
40 Series Temperature & Process Controller – 1/16, 1/8 & 1/4 DIN Sizes: The modular card design of Chromalox 40 Series controllers provides the owner with the flexibility to alter functionality with ease. Expansion from one to three outputs as well as communications and remote setpoint is easily accomplished and automatically recognized by the firmware. Optional ChromaWare™ configuration software allows the owner to program multiple units efficiently and store parameter settings for later use.
50 Series Limit Controller – 1/16 & 1/4 DIN Sizes: This fail-safe protection device may be used to prevent damage to equipment or products. It will shut down a process when the preset parameter threshold is reached. The controller cannot be reset until the process has returned to an acceptable parameter condition. The 50 Series limit controller maintains the maximum (High Limit Action) or minimum (Low Limit Action) process variable value since the last reset occurred.
80 Series Advanced Temperature Controller – 1/4 DIN: This controller boasts a large graphical/text display and has an impressive arsenal of features including up to nine outputs, five of which are programmable event outputs. The 4080 model is available with optional profiling and data logging functionality and access to data is accomplished via the optional USB port, in addition to the ModBus or Ethernet communication options.
"This product will soon become a favorite for solving more challenging process application requirements," said Scott Treser, Director of Controls and Panels for Chromalox. "Users will be thrilled with the robust and easy-to-program features across all controller platforms in this new line."
High resolution product photos available at this link:
[http://www.chromalox.com/content/news/images/ChromaloxDINControls.zip __title__ Chromalox DIN Temperature Controls]