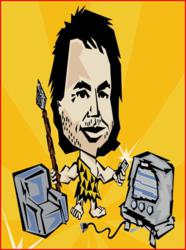 "Outrageously funny!"
Chicago Sun Times
Modesto, CA (PRWEB) February 26, 2013
"Defending the Caveman," the record holder as the longest running solo play in Broadway history, and a worldwide hit that has been seen in 45 countries and translated into 18 languages, comes to the Gallo Center for the Arts for one performance at 8 pm on Friday, March 22.
Tickets range from $10 to $45, and can be purchased online at GalloArts.org, by phone at (209) 338-2100, or at the Gallo Center ticket office, 1000 I Street in downtown Modesto.
A hilariously insightful play about the never ending battle of the sexes, 'Caveman' has both sexes roaring with laughter and recognition. Affectionate nudging between audience members happens as they relate to all the ways men and women fight, laugh and love. Cody Lymon, one of eight 'cavemen' who tour with the play around the world, appears in the Gallo Center production.
"Defending the Caveman" was written by Rob Becker over a three-year period during which he made an informal study of anthropology, prehistory, psychology, sociology and mythology. The play originally opened in San Francisco in 1991 and soon moved to Dallas. After a year in Dallas, 'Caveman' went on to sold-out engagements in Washington D.C., Philadelphia and Chicago, before opening on Broadway in 1995. After running two and a half years, playing 702 performances at the Helen Hayes Theater, it entered the record books as the longest running solo play in Broadway history.
Boyett Petroleum is the Gallo Center's 2012-2013 Premier Partner.