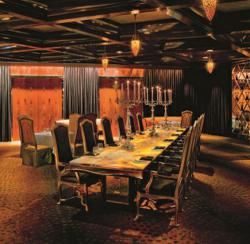 Palm Beach, FL (PRWEB) February 27, 2013
The Ritz-Carlton, Palm Beach introduces "Angle Weekends" with innovative menu items that fully embrace "Farm to Fork" dining concepts. Saturday nights feature a new concept-- Black Hill Ranch Suckling Pig, carved tableside. Whole Roasted, all natural Pork from Texas brined for three hours in Water, Herbs and Sazon (Achiote and Cilantro), then dry rubbed with additional seasoning and slow roasted to "melt in your mouth savory perfection." The delicacy is served with Yucca Mofongo, a puree of smashed Yucca, Onion, Onion, Garlic, Bacon, Cilantro and finished with a dollop of house made Mango Ketchup.
Sunday evenings usher in the week ahead with a comfort food favorite, Black Angus Prime Rib. The Roasted 1855-graded Black Angus Beef, the highest quality premium beef, hand selected and hand trimmed (only 13 percent of all cattle qualify for this) is marinated overnight with herbs and seasonings. The ultimate roast beef dinner is served with Foie Gras and Cranberry Brioche stuffing and house made Angle Steak Sauce.
Angle continues to impress guests with delicious and incomparable cuisine, while sourcing the finest ingredients. All Angle experiences include hot-out-of-the-oven Rosemary and Swiss Cheese Popovers and selections from the award-winning wine wall. The pricing for Suckling Pig is $34 and Prime Rib Sunday is $48; reservations are recommended.
For reservations and information about Angle, please call 561-540-4924or for more information about The Ritz-Carlton, Palm Beach, please call 1-561-533-6000 or visit, http://www.ritzcarlton.com/palmbeach
About The Ritz-Carlton, Palm Beach
The Ritz-Carlton, Palm Beach is a Forbes Five Star and 2013 AAA Five Diamond Award property, which completed a more-than $130 million transformation in 2009. The beachfront resort welcomes guests with breath taking ocean views immediately upon entry and a gorgeous outdoor terrace with evening ambiance and a fire pit. There are 310 spacious guestrooms and luxurious suites – including the 2,755-square-foot Presidential Suite – and 23,000 square feet of indoor meeting space. Dining options include Angle, a contemporary American supper club; Temple Orange for traditional American/ Mediterranean comfort food; Breeze as a chic burger bistro set ocean side; Oceanfront Cabanas for intimate affairs; Eau Spa Café; and Stir Bar in the lobby lounge for light nibbles and refreshments. The Business Lounge and Resort Cabanas cater to travellers who wish to combine work and play. Eau Spa offers a contemporary take on spa-going and day-long unwinding with a multitude of fanciful treatments, a full-service salon and Eau- fitness Center. For more information visit http://www.ritzcarlton.com/resorts/palm_beach.
About The Ritz-Carlton Hotel Company, LLC
The Ritz-Carlton Hotel Company, L.L.C., of Chevy Chase, Md., currently operates 81 hotels in the Americas, Europe, Asia, the Middle East, Africa, and the Caribbean. More than 30 hotel and residential projects are under development around the globe. The Ritz-Carlton is the only service company to have twice earned the prestigious Malcolm Baldrige National Quality Award, an award that originated in 1987. Its purpose is to promote the awareness of quality excellence, recognize quality achievements of companies and publicize successful quality strategies. The Ritz-Carlton Hotel Company won the award in 1992 and 1999. For more information, or reservations, contact a travel professional, call toll free in the U.S. 1-800-241-3333, or visit the company web site at http://www.ritzcarlton.com. The Ritz-Carlton Hotel Company, L.L.C. is a wholly-owned subsidiary of Marriott International, Inc. (NYSE:MAR).
Contact:
Christine DiRocco
Director of Public Relations
(561) 540-4810
Christine.dirocco(at)ritzcarlton(dot)com