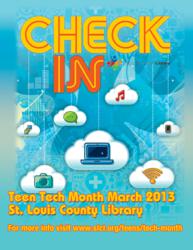 St. Louis, MO (PRWEB) February 25, 2013
St. Louis County Library will celebrate Teen Tech Month in March with a variety of programs and activities at all 20 locations. Libraries and schools across the country will celebrate this year's theme, "Check In @ Your Library®." Teen Tech programming is a national initiative of the Young Adult Library Services Association (YALSA) aimed at teens, their parents, educators and other concerned adults. Teen Tech Month encourages teens to use libraries' non-print resources for education and recreation, and to recognize that librarians are qualified, trusted professionals in the field of information technology.
SLCL's Teen Tech Month will include a diverse series of programs including: workshops on stop motion animation, search engine battles, laser tag, eMedia tutorials, tech related craft programs, book discussions and a Create a Meme contest.
Teen Tech programming is held annually in March. For more information about Teen Tech Month at SLCL, please call 314-994-3300 or visit http://www.slcl.org/teens/tech-month.
Program sites are accessible. Upon two weeks' notice, accommodations will be made for persons with disabilities. Contact St. Louis County Library by phone 314-994-3300 or visit http://www.slcl.org.