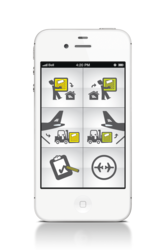 The new iPhone freight tracking system means we can exceed customer expectations in ensuring the transportation and tracking of their valuable freight.
Vancouver, BC (PRWEB) February 28, 2013
Conquer Mobile, a leading developer of secure enterprise workforce apps and Alkan Air, the primary charter airline for Yukon exploration announce a new iPhone freight tracking app.
Alkan Air specializes in charter air services for the mining and exploration industry, carrying people and freight to remote areas of the Yukon. When transporting valuable cargo such as mineral samples for analysis or urgent replacement drilling equipment, accountability is key. Alkan Air customers need to know exactly where the freight is at any time and that it has been securely delivered.
'The new iPhone freight tracking system means we can exceed customer expectations in ensuring the transportation and tracking of their valuable freight,' said Wendy Tayler, President of Alkan Air. 'It was essential that the app was ready in time for our flying season. Conquer Mobile were very quick to deliver a working prototype which we could test on the tarmac with our dispatchers and loaders. They proved to be a highly responsive development partner.'
'Conquer Mobile excels in delivering iOS apps that are intuitive to use.' said Angela Robert, CEO Conquer Mobile. 'We achieve this by doing rapid prototyping with clickable wireframes for user testing. For Alkan Air this was crucial in designing a user interface that was practical and easy for airfield staff to use. It enabled us to move quickly from first concept to user testing to delivery in time for the flying season.'
About Alkan Air
Since 1977, Alkan Air has been the leading charter airline for the Yukon territory. It provides 24/7 charter services for the mining and exploration industry to provide safe and efficient transport of people and equipment to remote areas. Alkan Air also provides a dedicated air-ambulance medevac service to provide safe transport of the sick and injured to major centers in BC and Southern Canada. For more information, please visit http://www.alkanair.com
About Conquer Mobile
Founded in 2006, Conquer Mobile is a fast growing specialist developer of secure enterprise workforce apps. Conquer Mobile is known for deep expertise in mobile security, 3D visualization and SharePoint integration and has built a solid track record with blue-chip clients such as Ziplocal, Canpages and McDonald's Canada. Conquer Mobile is also a trusted long term development partner for several leading ISVs.
For more information, please visit http://www.conquermobile.com