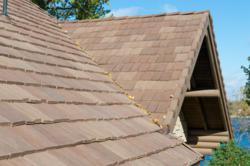 Ambler, PA (PRWEB) February 25, 2013
Quickly-emerging Springtime weather means it's time to evaluate our home's exterior. Owning a home means giving constant attention to the building products that go into protecting the structure of your house. While we'd like to believe items like our roof, siding and windows will last forever, that's not the case. Mark Clement, co-host of the national home improvement radio show MyFixitUpLife, offers a variety of tips for knowing when it's time to replace products on your home.
"The first thing any homeowner needs to understand is that every element of your home's exterior, from the top of the roof down to the front entry door, will eventually need to be replaced," says Clement, a professional contractor in Pennsylvania. "The key is to know when the time is right to invest in new products for your home. This means an ongoing evaluation of your home's current products, researching new product options and contacting professionals for support."
Clement points out that replacing older products with newer, more energy efficient and longer-lasting products is a sound investment for homeowners. "We have a 100-year-old home and just replaced the original decaying wood door with a Therma-Tru fiberglass door and trimmed it out with long-lasting PVC millwork from Fypon," says Clement. "We also replaced older windows with ENERGY STAR qualified vinyl windows from Simonton Windows and added a new polymer slate roof from DaVinci Roofscapes. These are all man-made products that add more life to our house. Plus, we're saving more on our daily energy bills because of the incredible features of these products.
"Another important aspect to consider when it does become time to replace key products on the home's exterior is to look at upgrading and taking advantage of newer, more aesthetically pleasing products that are on the market. That's what we did with the high-performance, low-maintenance products we selected. Our product choices not only make our home more livable right now, but also more add value to the home and make it more 'sellable' when it comes time for us to put the house on the market."
Tips for Evaluating Your Roof
1. Using either a ladder or binoculars from across the street, look for problem areas, such as missing or broken shingles, along with roofing tiles that may be "flapping" in the wind. These are all indications that a new roof may be in your future.
2. Check the sides of your roof. The southern exposure weathers significantly faster than the other sides of the roof, so make sure to carefully examine this area. Also, shallower pitches weather faster than steeper pitches. So again, if your roof has a shallow pitch --- like a shed dormer --- make certain you can clearly see it to get a true indication of the condition of your roof.
3. If you have a real cedar roof, consider your geographic location. Many West Coast homeowners are proactively replacing these wooden roofs with fire- and impact-resistant polymer shake roofs. Along with helping protect the home from potential wildfires, these roofs oftentimes come with a homeowner insurance discount.
Tips for Assessing Your Windows
1. Evaluate the functionality of your current windows. If you have condensation between glass panes, the windows are hard to open or close, your energy bills are soaring, or if there are drafts coming in around the window units, then it's time to seriously consider replacement windows.
2. Determine how many panes of glass are in your windows. Single-paned windows are the least energy efficient. You can replace them with double- or triple-paned ENERGY STAR compliant windows to enhance energy efficiency and make your home more comfortable during all seasons.
3. Look at the frames of your windows. If they're made of a product that needs constant maintenance like wood, you're probably spending a good deal of time scraping paint and repainting every year or so. An investment in vinyl-framed windows would be smart since these low-maintenance frames eliminate maintenance hassles.
Tips for Knowing When to Replace a Front Door
1. If you can see light around your main entry door from the inside, the door is hard to close or lock, or the door itself is warped, it's time to consider a new door.
2. Even if you can't see light, air may be moving through gaps in the weather stripping at a surprising rate. On a very cold or hot day, hold the back of your hand an inch or so away from the bottom and perimeter of your door. If you can feel air moving or a significant cold spot, that's a signal your existing door could benefit from better sealing.
3. Think about the weather conditions your home's door faces along with your energy bills. If either run to the extreme, consider replacing your entry door with a high-performance fiberglass door (which can have four times more insulation than wood doors). Look for a door with enhanced weatherstripping, corner seal pad, door bottom sweep and profiled sill that all work together to provide strength and stability in your entry door.
Tips for Evaluating Trim Features of the Home
1. Take a top-down look at your home. Most houses have louvers placed high above the attic or garage space to allow ventilation in those areas. And, most houses have wooden louvers that can rot with time. Replacing louvers with insect-resistant and rot-resistant synthetic louvers can improve the home's appearance and functionality.
2. Wrap it up. Clement recommends that if you have unsightly porch posts you can easily transform them into showpiece parts of your home by using Column Wrap Kits. The decorative PVC or urethane pieces can generally be installed in less than 30 minutes around existing structural posts and columns to give an upgraded look to any home.
3. If you have the opportunity to replace your entry door or windows, make sure to finish off the job with stylish window and door trim. Lightweight and easy to install, weather-resistant synthetic mouldings, shutters and entryway surrounds made of durable urethane or PVC are a definite do-it-yourself project for any homeowner.
For more home improvement tips, visit http://www.myfixituplife.com.
###