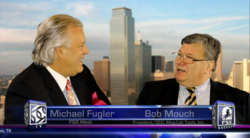 We are revolutionizing long handle tools.
Dallas, Texas (PRWEB) February 25, 2013
During the recent FSX Investment Conference held at Dallas, Texas, Mag-Lok Tools Inc. President/CEO, Bob Mouch, granted an Exclusive Interview for FSXInterlinkedTV, an on demand web Channel dedicated to Entrepreneurs and Investors.
During the exclusive interview Mouch shared that Mag--Tools Inc. manufactures a unique, connectible long handle tool. They have just received the utility patent on their connector. The Mag-Lok Grip Connector ™ has been in development for two and a half years and allows its users the ability to switch out tool heads quickly and easily with one handle. Mag-Lok has 32 tool heads that fit its connecter and will have another 20 in the next 3 to 4 months.
"We are revolutionizing long handle tools. Long handle tools have been around for over 2000 years and nobody had ever been able to successfully make a connector that allowed you to connect the tool head to the handle and have it have the same functionality as a fixed tool," stated Bob Mouch, CEO of Mag-Lok Tools Inc.
The full interview is available only on InterlinkedTV.com
About Mag-Lok Tools Inc. and InterlinkedTV
Mag-Lok Tools, Inc. is a Dallas, TX based business dedicated to producing the highest quality manufactured tools in the long handle tool industry. Their technology allows Mag-Lok Tools an advantage that no other long handle tool can offer. More information at MagLokTools.com
InterlinkedTV is an internet video production and distribution site dedicated to Entrepreneurs and Investors. We feature education, public and private companies, venture capital news, and investment events. This content is exclusive and cannot be found anywhere else. We give our members and viewers a unique chance to meet the CEOs and executives of high growth companies. For more information go to InterlinkedTV.com & Interlinked.com