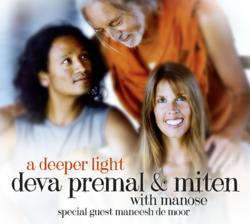 Premal's distinctive vibrato blends easily with the hypnotic vibe of the reggae-inflected rhythms, heightening the inherent power of the sacred chants she sensually intones.
Boulder, CO (PRWEB) February 26, 2013
If you have ever taken a yoga class or experimented with any kind of alternative stress-reduction therapy, from detox to dynamic meditation, pilates to acupuncture, chances are you have heard the music of Deva Premal and Miten. Partners in life and music for over twenty years, their unique renditions of ancient mantras are played in yoga studios and healing rooms everywhere, and their music has touched the hearts of millions of listeners -- of all ages, and from every walk of life. Their record sales number in the millions, and their annual, almost non-stop, global concert tours are perennial sellouts.
With their latest offering, A Deeper Light (April 23rd, White Swan Records), Deva and Miten intertwine their trademark Sanskrit mantras with sensual, dub-inspired grooves. The German-born Premal's distinctive vibrato blends easily with the hypnotic vibe of the reggae-inflected rhythms, heightening the inherent power of the sacred chants she sensually intones.
"We've always wanted to do a mantra dub album," says Miten, who co-produced the album with old friend and fellow Englishman, Joby Baker. "The tempos we compose in are quite slow, and the one-drop of reggae really suits us. I knew Joby and Maneesh (de Moor, keyboardist) were both dub freaks, so we set out with the perfect companions. All we had to do was have fun and stay focused."
Recently reconnecting with Baker (whose production credits include Cowboy Junkies, Toni Childs and Alex Cuba) after 20 years, Deva and Miten made the spontaneous decision to record the album at his rural Vancouver home, where they immediately felt comfortable. Maintaining focus was never an issue, and the relaxed sound is evidence enough that they made the right choice. With its meditative vibe and unhurried tempos, A Deeper Light evokes the experience of a moonlit bamboo grove in India, the scent of jasmine wafting sultrily on the breeze.
As producer, Baker wanted to go for a very warm, organic sound, requiring the artist's to take a new approach. Rather than weeks of solo sessions and bouncing tracks back and forth via the internet, all of the musicians – Deva and Miten were joined by their live show accompanists, Nepalese bansuri flute maestro Manose and Dutch keyboard virtuoso Maneesh de Moor, as well as Richard Moody on violin and viola -- spent two weeks together in Baker's intimate studio, working as a group in real time on every track to get a sound and a vibe that was much more live than studied. Almost all the instruments used were acoustic, with live drums, bass, piano, guitar, and violins. Miten comments, "Everything 'moved air' – and that's what makes the music breathe."
"We wanted to create a natural feel, no digitally programmed or processed instruments, healthy on the ears and the heart. It has a warmth and a simplicity to it -- it's my favorite album so far." adds Deva Premal.
Indeed, this refreshing new work brings a vibrant, sensual energy to the world's oldest devotional music – and presents a fresh direction for the enduringly popular artists. Since the release of the now-classic The Essence (1998, White Swan Records), the music of this extraordinary couple has become the soundtrack for just about every possible alternative healing modality, and helped to spawn the rapidly-expanding (and briskly selling) "yoga music" genre. As a result, their albums are fixtures atop new age/lifestyle music charts worldwide.
Their annual world tours -- from Moscow to Madrid, Berlin to Boston, Sydney to Amsterdam, London to Ljubljana – stop in 25 countries per year, attracting hundreds of thousands of devotees. Each is eager to lend their voice to these revered chants, and to bask in the sumptuously silent interludes between each song.
Deva and Miten's "fans" include not only such diverse luminaries as Hollywood icon, Cher, life coach and motivational guru Tony Robbins, bestselling spiritual author Eckhart Tolle, and award-winning actor Edward James Olmos, but also professionals, teachers of autistic children, hospice caretakers, midwives and even -- or maybe, especially -- Iraqi war veterans and 911 first responders, all of whom have found solace in these sacred sounds. Even His Holiness the Dalai Lama has sung Deva and Miten's praises after inviting them to play for him at a private audience.
In these turbulent times, Deva and Miten's chilled out Sanskrit chants offer something of a musical balm to calm the nerves and nourish the tortured spirit. This authentic and honest expression of love and commitment to a spiritual path is what sets them apart from their musical contemporaries.
In Deva Premal and Miten's view, "We see ourselves more as flame carriers of a 5,000 year old tradition than emotion-based musicians. The music we make is born out of a committed spiritual practice. We meditate, we investigate and our music is a result of that experience. It's more a case of life and death than entertainment!"
A Deeper Light will be released on April 23, 2013 by Boulder-based White Swan Records, the leading label for yoga music in North America. Deva Premal & Miten's 2013 tour of North America begins Labor Day weekend. Complete tour dates at http://devapremalmiten.com/music/tour-dates.
A Deeper Light Track Listing
1. Om Kumara Mantra (innocence) 10:28
2. Om Shree Rama Mantra (refuge) 10:22
3. Om Kama Mantra/Deeper (tantra mantra) 9:14
4. Guru Brahma Mantra (devotion) 7:09
5. Om Mantra (the cosmic yes) 10:15
6. Om Apadamapa Mantra (healing) 4:30
7. Om Triambakam Mantra (wellness) 4:12
8. Om Parama Prema Mantra (embrace) 8:15
***
Since 1991, Boulder, Colorado-based White Swan Records has remained steadfastly attuned to the creative listener's yogic sensibility, developing an alluring, heartful and diverse catalog of music styles including Sanskrit mantra, kirtan Americana, Indo-Jazz Fusion, Zen moods and Sufi melodies. Featured White Swan artists include bestselling mantra performers Deva Premal & Miten, kirtan Americana troubadour David Newman, devotional pop singer Donna De Lory and folk kirtan singer/songwriter Brenda McMorrow. More info at http://whiteswanrecords.com.