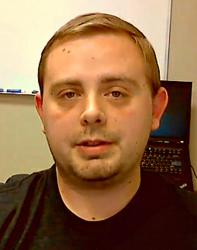 "What we found was that all of your customers tend to rate your technical support and your software with the highest ratings consistently -- five-star across the board." Bobby Graham, BlueGrass Mailing, Data and Fulfillment Services
Omaha, Nebraska (PRWEB) February 25, 2013
Adding to a growing library of video success stories, Linoma Software has just released its latest video featuring an interview with BlueGrass Mailing, Data, and Fulfillment Services that details how this customer has transformed their workflow processes with the GoAnywhere Managed File Transfer Solution.
Think of the switchboard operators of the early twentieth century who managed the constant flow of inbound and outbound calls by inserting and removing phone plugs for the appropriate jacks. Then imagine those calls were inbound and outbound files, and you get an idea of what someone in Bobby Graham's position deals with every day.
As IT Administrator for BlueGrass Mailing, Data, and Fulfillment Services, Graham serves as the central hub for customers' incoming project files that may need to be passed along to the fulfillment center to be printed or mailed. Because of the size of most of these files, they can't be attached to an email, so an FTP process is required.
He also ensures that proofs, invoices, and other files can be easily sent out to customers, and that the constant flow back and forth is managed, monitored, and secure.
Thanks to the GoAnywhere Managed File Transfer solution from Linoma Software, Graham and his team can easily automate and track inbound and outbound file transfers while keeping the data secure.
In the newly released video, Graham says, "When a customer drops off a file, we will have GoAnywhere Services automate emails to our internal reps and to our external customers saying 'Hey, we got your files. Everything is here.' We then immediately have a trigger in Services that kicks off a project in GoAnywhere Director to move all of those files onto an internal server – something that is not forward-facing to the internet – and place them on an encrypted drive. And then we send out emails within Director with links to our internal sales reps that say, 'Here, you can go get your stuff.'"
Graham talks about a variety of aspects of his experience with GoAnywhere including workflow management, error reporting, data encryption and translation, as well as its support team and development staff.
In the video interview, Graham says, "When we did the research, what we found was that all of your customers tend to rate your technical support and your software with the highest ratings consistently -- five-star across the board. The price point was fantastic. We called and talked to the sales rep and got a demo. We absolutely loved what we saw and moved forward with the purchasing process."
Linoma Software is attending the RSA Security Conference in San Francisco this week, and hopes to talk with more happy customers. The Linoma team will be exhibiting in Booth #242.
"We're always fascinated when we hear all of the creative ways our customers are implementing GoAnywhere," said Brian Pick, Linoma Software's Director of Sales. "We hope to talk more customers, as well as other IT professionals, during this spring's trade shows."
_____
About Linoma Software
Founded in 1994, Linoma Software provides innovative solutions for managed file transfer and data encryption. With a diverse install base of more than 3,000 customers around the world, Linoma's focus on research and development, as well as customer service and support, contributes to its leadership in the software industry.
About GoAnywhere™ Managed File Transfer Suite
GoAnywhere™ is a managed file transfer and secure FTP solution that will streamline and automate file transfers with trading partners, customers, employees and internal servers. Enterprise level controls and detailed audit logs are provided for meeting strict security policies and compliance requirements including PCI DSS, HIPAA, HITECH, SOX, GLBA and state privacy laws.
GoAnywhere can be installed on most platforms including Windows®, Linux®, IBM® i (iSeries®), UNIX®, AIX® , and Solaris®, and supports popular protocols including FTP, SFTP, HTTPS, and AS2. Optional modules include Secure Mail for ad-hoc file transfers and NIST® certified FIPS 140-2 validated encryption.
The GoAnywhere solution is comprised of three products:
>>GoAnywhere Director - Managed File Transfer (scheduler, workflow automation, file encryption, etc.)
>>GoAnywhere Services - Secure FTP Server and optional Web Server
>>GoAnywhere Gateway - DMZ Gateway with Reverse and Forward Proxy
Visit GoAnywhere.com to download a free trial. If you're attending the RSA Conference in San Francisco, stop by Booth #242 to speak with a GoAnywhere product specialist.