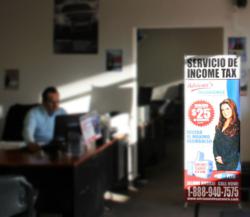 "This campaign would let the Hispanic people know that we are really here to help them."Adriana Fregoso explained.
Los Angeles California (PRWEB) February 26, 2013
Adriana's Insurance Services launched a new advertising campaign this month. It is toward helping the Hispanic community to file their income tax on time. The campaign encourages people to file their taxes before the IRS' deadline. It also describes the kind of service people would receive and the benefits Adriana's Insurance Services offers as a Tax consultant.
"We are a very well-known company in all Southern California but we don't want to be limited just by helping Hispanic people in their insurance needs, we want to offer them more," said Adriana Fregoso, CEO of Adriana's Insurance. "This campaign would let the Hispanic people know that we are really here to help them."
The campaign includes several media distributions that mainly Hispanic people speculate such as magazines, newspapers, radio commercials and Internet sites. Adriana's Insurance has included a tax form which can be filled out on their website, http://adrianasinsurance.com/Services_es/impuestos/ . This form is monitored all day by our taxes specialists.
Adriana's Insurance knows that the insurance market has changed, especially in Southern California. There are many generations of Hispanic people that have lived there, and some families don't even speak Spanish anymore, or it is not their native language. Adriana's Insurance understands this situation that's why they have also created an English version of that electronic form http://adrianasinsurance.com/Services/taxes/
The ads have very direct messages stating that the taxes specialist can find a way to get you your maximum reimbursement, along other services Adriana's Insurance can do for you:

Electronic Filing
Direct deposit
Maximum Reimbursement
Fast Refund
This campaign includes the entire south counties of the state of California, the ads are accompanied by the slogan in Spanish and one in English; "Time to relax Adriana's does your tax."
Adriana's Insurance is the largest insurance broker in Southern California, with over 50 locations in the state. Their success is based on the hard work their employees show and the vision of the company's owner. Adriana's Insurance has always made an effort to achieve customer satisfaction; more information about Adriana's Insurance is available at http://adrianasinsurance.com.