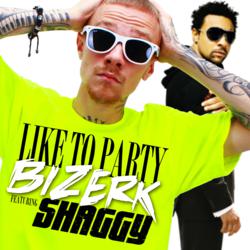 Los Angeles, CA (PRWEB) February 26, 2013
OK, it's the middle of winter, but let's pretend it's July, it's Friday, the sun is out and work is over – kick off your shoes and get ready for "Like To Party," the celebratory new single from Reggae legend Shaggy and hotly tipped newcomer Bizerk (an Inner Circle/Circle House artist), produced by Don Corleon and slated for February 26 worldwide release from Don Corleon Records.
The beloved Shaggy has put out nearly two decades of Reggae hits, including the crossover mega-classics "It Wasn't Me," which hit No. 1 on the Billboard Hot 100, and "Boombastic," from his Grammy-winning album of the same name. Miami-based newcomer Bizerk has already featured on tracks with Slightly Stoopid and others, and takes a grab at the big-time on the anthemic "Like To Party."
Production on the track is handled by the estimable Donovan "Don Corleon" Bennett, the architect of songs for Sean Paul, Rihanna, Keisha Kole, Vybz Kartel, Protoje, Jah Cure, Pressure and many other leading Reggae artists.
The tag-team approach results in a head-nodding, sun-soaked single with a fresh yet classic feel – if you need some summer in the winter, "Like To Party" by Bizerk featuring Shaggy will be available worldwide February 26 from Don Corleon Records.
To preview "Like To Party" click here.