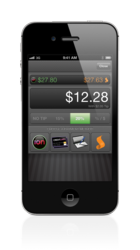 With ION and Zipmark, community banks and credit unions remain the trusted source to connect businesses and consumers at the point of sale.
Atlanta, GA and New York, NY (PRWEB) February 27, 2013
Sionic Mobile today announced its partnership with New York based digital checkbook provider Zipmark. The combined solution enables ION Rewards® consumers to pay merchants with their phones directly from their checking accounts rather than credit cards and earn 2% of their purchase in IONs instantly at checkout.
ION Loyalty® merchants also benefit as all future ION checkouts will be directly deposited into their business checking accounts and fees will be lower for processing digital check payments versus credit cards.
"On the heels of announcing our ION Local® mCommerce platform for financial institutions, embedding Zipmark digital checking within ION is a natural next-step for us," said Paul Provenzano, VP FI Strategy & Development, Sionic Mobile. "With ION and Zipmark, community banks and credit unions remain the trusted source to connect businesses and consumer account holders at the point of sale."
Consumers download the free ION Rewards app, link it to their checking account, pay with their phone at any ION merchant and get paid 2% of the checkout amount in IONs instantly. Additional ION rewards are earned by purchasing merchant-advertised items. Users also earn IONs when connecting with friends and signing up their favorite places. 1,000 IONs equals US$1.00 and may be spent like cash for anything at any ION merchant.
"Partnering with Sionic Mobile is a great opportunity to bring the advantages of speed and lower fees of the Zipmark digital check to merchants and consumers," said Jay Bhattacharya, CEO and co-founder of Zipmark.
Paying at checkout with ION is easier and faster than using an ATM. Consumers simply enter a payment amount and ION displays a bar code on the phone. Merchants without barcode scanners use their mobile devices to confirm payments. All ION checkouts are secure and take less time than swiping a card.
###
About ION
ION is a fully digital mCommerce platform connecting merchants with nearby consumers via mobile ads, payments and rewards. ION Rewards™ pays consumers to pay with their phones and rewards them for buying merchant-advertised items, connecting with friends and referring their favorite places. ION Loyalty® increases high-margin sales for food & beverage, retail and service providers. The apps connect securely in the cloud for immediate and effortless checkouts. Both apps are free and support iOS and most Android devices.
About Zipmark
Zipmark's goal is to remove barriers between businesses and their money by bringing the checkbook into the 21st century: reducing the amount of time and money it takes to make a check payment, eliminating the possibility for bounced checks and taking all risk out of the equation for payer and payee alike. Zipmark was launched in 2010 by Jay Bhattacharya and Jake Howerton, and is based in New York City. Zipmark's investors are Village Ventures, Contour Venture Partners, NYC Seed, High Peaks Venture Capital and the New York City Investment Fund. Disclaimer: Zipmark™ is a registered trademark of Zipmark, Inc. All other copyrights and trademarks within the release are property of the respective brands.