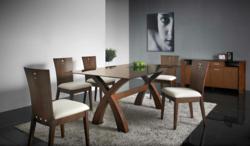 We are excited to be able to offer customers superior furniture without the premium price tag.
(PRWEB) February 26, 2013
http://www.bryght.com The launch of new online retailer, Bryght.com, has provided a unique solution for people to furnish their homes with luxury furniture, at the lowest possible prices. Bryght.com uses relationships with globally recognized designers and artisans to cut out the middlemen, and the associated mark-ups. Bryght.com thereby enables savvy design enthusiasts the rare opportunity to buy direct from the creators at a fraction of the traditional retail price.
In addition to passing these savings on to the customer, furniture is also delivered free of charge with none of the usual additional shipping costs, further reducing the costs often associated with buying furniture.
Bryght.com also offers a unique 30-day risk free guarantee. This gives customers the opportunity to arrange the furniture in their homes and see the piece in situ to ensure that they are happy with the fit and finish of the product and that it complements their home's decor. At any point within the 30-day guarantee period the homeowner can inform Bryght.com that they are not happy with the furniture, for any reason, and the piece will be picked up, free of charge, and a full refund will be provided. This level of customer assurance is unmatched and unprecedented, beyond anything expected from other furniture retailers, either online or in-store.
Aamir Baig, CEO of Bryght.com said "We are excited to be able to offer customers superior furniture without the premium price tag. Bryght.com is the first company in North America to be boldly taking on the industry in this way. We don't comprise on quality or customer service but pride ourselves on the retail experience we offer. We provide the highest quality furniture from leading designers from across the world, direct to the buyer's door. If the customer isn't satisfied with their furniture, not only do we provide a refund, but we also pick up the piece at our expense. This makes Bryght.com the most affordable quality furniture retailer in North America."
About Bryght.com
Bryght.com is a North American online retailer offering premium quality, beautifully crafted products at a fraction of retail price. Delivered direct from the designer to the customer's door, Bryght.com cuts costs by an average of 50% and passes these savings on to the buyer. With pieces from handpicked artisans from across the world, Bryght.com promises the highest quality luxury items without the traditional mark-up.