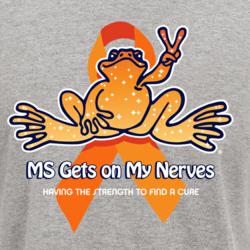 We all need to have the strength to find a cure.
Gloucester, Va. (PRWEB) February 25, 2013
Each day, multiple sclerosis gets on the nerves of more than two million people around the world. Literally.
Multiple sclerosis (MS) is an unpredictable, often disabling, disease that attacks the central nervous system, according to the U.S. National Multiple Sclerosis Society. More than 400,000 Americans live with MS.
"We all need to have the strength to find a cure," said Catesby Jones, Peace Frogs founder and president.
That's why Peace Frogs is pleased to release its newest frog design, "MS Gets on My Nerves."
MS is the number one disabling disease among young adults in the United States, according to the society.
The making of the Peace Frogs MS shirt alone illustrated that startling statistic, Jones said.
"The slogan came from a friend and fan of Peace Frogs who has MS," Jones said. "The shirts were printed by a woman living with MS. And every person on the team knows someone with MS."
According to the National MS Society's Hampton Roads chapter, located and serving people near the Peace Frogs headquarters in Virginia, MS "symptoms range from numbness and tingling to blindness and paralysis. The advancement, severity and specific symptoms of MS in any one person cannot yet be predicted, but advances in research and treatment are moving us closer to a world free of MS."
The MS Society's Hampton Roads chapter is using the MS Peace Frog to raise money for that very research, treatment and support of families dealing with MS.
In 2011, the entire National MS Society and all its chapters, "devoted $164 million to programs that enhanced more than one million lives. To move us closer to a world free of MS, the society also invested $40 million to support more than 325 research projects around the world."
Interested in using the "MS Gets On My Nerves" t-shirt to raise money for a research, support or educational group or foundation, or another chapter of the National MS Society?
Peace Frogs offers an incentive program, called Peace Frogs FUN-Raisers, for groups to raise money for their cause.
"Peace Frogs does not represent any form of activism; rather, we are aware that now, perhaps more than ever, the entire planet needs some positively peaceful feelings," Jones said. "That's why it's great that we have found a way to support as many groups as want to get involved."
Register for the program at http://www.peacefrogs.com/affiliate_register. Peace Frogs will send you a special Peace Frogs web address link that can be shared in an email blast, posted on a website, Facebook or Twitter. Groups registered with the program will receive 15 percent of all sales made from that link.
In December 2012 alone, Peace Frogs made donations to multiple charities across the country. Since the FUN-Raiser incentive program started in 2011, more than 50 groups have raised money through Peace Frogs.
About Peace Frogs:
Established more than 25 years ago by Catesby Jones, the Virginia-based Peace Frogs apparel company promotes positively peaceful living. The apparel and gift products are featured online, in more than 800 specialty stores around the world and via an annual catalog. With 16 free standing stores and 20 licensees, the Peace Frogs brand grows in popularity each year. For more information about Peace Frogs, contact Catesby Jones at catesby(at)mindspring(dot)com.