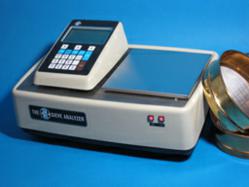 We are pleased with the speed and accuracy. Service has been good and timely.
Fairfax, VA (PRWEB) February 26, 2013
In a project focusing on methods to simplify the analysis of sieve testing, CSC developed an instrument system that cuts the time to determine and record particle size distribution of a sieve test. The instrument prepares percent-retained tables and gets the data ready for a computer or Laboratory Information Management System (LIMS).
The project was based on a product developed jointly with a UK sieve manufacturer 10 years go. The product became a success throughout the world. In 2010, the UK company chose to discontinue the product.
Since then, CSC Scientific received numerous requests for the discontinued product. The company chose to conduct beta tests of a prototype design. In these beta tests, participants were enthusiastic. In fact several of the testers refused to return the instrument because it had saved so much time and administration in their sieve-testing program. Consequently, CSC upgraded the product and is offering it again.
The device named the "CSC Sieve Analyzer" reduces the time to process sieve test results to approximately one minute. This compares to between 10 and 15 times longer for traditional methods. The CSC Sieve Analyzer also eliminates the need for precise weighing of test sample and the collection of sample remaining in each sieve after a shaking test is finished.
For more details, check the article "Sieve Test Results Simplified".