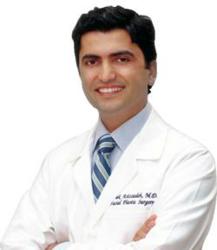 I'm very pleased with how the text came out, and am very excited that it is now available for others to read and learn from.
Beverly Hills, CA (PRWEB) February 25, 2013
Babak Azizzadeh, MD, FACS, is pleased to announce the publication of his latest text alongside Guy Massry, MD, titled "Brow and Upper Eyelid: A Multispecialty Approach." The 240-page text is now available in the latest edition of Clinics in Plastic Surgery, an informative journal that covers a wide range of topic in aesthetic and reconstructive surgery.
"I'm very pleased with how the text came out, and am very excited that it is now available for others to read and learn from," said expert facial plastic surgeon Dr. Azizzadeh. "Dr. Massry and I are both extremely grateful to have worked with such wonderful section editors that were truly the driving force behind the project--Doris Day, MD, Julie Woodward, MD, Farzad Nahai, MD, and Jennifer Kim, MD."
The text, which is comprised of 20 total chapters, was edited by both Babak Azizzadeh,MD, FACS, and Guy Massry, MD. Dr. Azizzadeh and Dr. Massry often work together during the performance of procedures requiring expert knowledge in both facial plastic and reconstructive surgery as well as oculoplastic (eye) surgery. Because of the unique approach by two world-renowned surgeons in their field, the text offers a special and distinctive outlook on procedures surrounding the brow and upper eyelid.
"Dr. Massry and I edited this publication together, and because we're both knowledgeable in our respective fields, we were able to provide readers with the best information possible without being bias," said Dr. Azizzadeh. "I think it's very important to consult with other experts to make sure that you're painting the truest portrait of cosmetic rejuvenation."
The publication is one of the first true multispecialty texts focused entirely on the eyelid and brow region. Dr. Azizzadeh hopes the text will bring more awareness to the types of facial rejuvenation procedures possible and lead to other focused content in the future.
"Dr. Massry and I are currently in the process of working on a sequel where the central focal point will be lower lid and mid-face rejuvenation," said Dr. Azizzadeh.
Dr. Azizzadeh is a world-renowned facial plastic surgeon and the author of five bestselling books, including the popular consumer guidebook "Beverly Hills Beauty Secrets." He was recognized as a Beauty Expert in 2012, and has been featured in popular media outlets such as Entertainment Tonight, The Doctors, LA Times and the NY Times. Dr. Azizzadeh serves on the Physician Advisory Board of Sanofi-Aventis, Mysoscience, Mentor, and SkinMedica, and was awarded the RealSelf Top Botox Experts Award in 2011. As a Harvard trained facial plastic and reconstructivesurgeon, Dr. Azizzadeh has a unique understanding of both facial aesthetics and function.
If you'd like additional information regarding Dr. Azizzadeh or the CENTER for Advanced FacialPlastic Surgery in Beverly Hills, please call (310) 657-2203 or visit http://www.facialplastics.info.