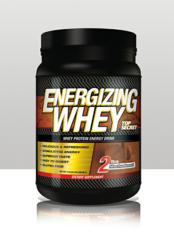 A delicious, healthy and nutritious alternative to sugar filled energy drinks!
Miramar, Florida (PRWEB) February 25, 2013
Top Secret Nutrition has built its reputation by designing and marketing nutritional supplements of the highest quality and efficiency that are also unique. The company has hit the "spot" again with the release of the delicious mocha flavored Energizing Whey powder, a supplement that combines protein and caffeine to create yet another market innovation. Energizing Whey brings to an end the need to add left-over coffee to a vanilla protein drink.
Energizing Whey is a healthy alternative to the popular but often unhealthy sugar laden energy drinks. It mixes whey protein with an "ENERGIZING ACTIVATOR" blend consisting of taurine, caffeine (200mg), ginseng root extract, green tea extract, l-tyrosine, and rhodiola rosea root. Energizing Whey is also rich with the Branch Chain Amino Acids (BCAAs) that are so vital to athletic performance. The supplement contains only 8 grams of carbohydrates and 190 calories per serving.
"An Energizing Whey shake is the perfect breakfast" states Tom Richardson, Top Secret Nutrition's CEO. "It provides the consumer with 26 easy to digest grams of protein and the energy of two cups of coffee packaged into an easy to prepare and delicious mocha flavored drink. It is also a great supplement to take before a workout or any time of the day when a person needs a healthy energy boost" concludes Tom.
The Energizing Whey is delicious, healthy and convenient. The powder can be mixed with water, or any type of milk in just seconds to provide the consumer with approximately one quarter of his/her daily protein requirements in just one serving (note: protein requirements vary based on levels of activity and body weight.) The right level of protein consumption is a key factor in the development of lean muscle mass.
For additional information regarding the Energizing Whey supplement visit http://www.topsecretnutrition.com. During your visit please take the time to explore the rest of our product line.
About Top Secret Nutrition:
Top Secret Nutrition is a developer and marketer of high-quality nutritional supplements with the purpose of "Fueling Active Life Styles 24/7" and is considered a leader in sports nutrition, general heath and weight management supplementation. The company currently has over 45 products spanning across the three supplementation segments. These products are widely available in the United States at some of the most relevant retailers such as Bodybuilding.com, GNC, Vitamin Shoppe, and Vitamin World. The products are also distributed to a wide network of retailers by Europa Sports, Select Nutrition Distributors, and the Chiropractor's Buying Group. Top Secret Nutrition's products are increasingly available in international markets.
Top Secret Nutrition is based in Miramar, Florida. All of its products are manufactured in the United States using Good Manufacturer Practices (GMP) certified labs. For more information or to schedule an interview, please contact Tom Richardson at (954) 496-9600 or tom(at)topsecretnutrition(dot)com.