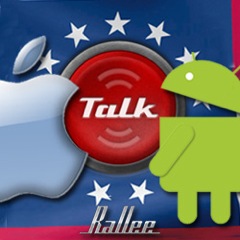 New York, New York (PRWEB) February 24, 2013
Radio Runt Inc. announces the new iOS version release of Rallee, the newest real time walkie-talkie app for smartphones that previously released on Android in mid December 2012. After just 8 weeks in the Google Play store, Rallee received 50K downloads from around the world and clocked well over 1M minutes from users, 86% of which were returning. Rallee is now nearing 100K downloads and will also be showcasing at the 2013 Mobile World Congress in Barcelona February 25-28.
Rallee is a free app that can now be downloaded from AppStores worldwide. The app allows social network users to rally their voices and stay connected throughout the day. By offering Group Channels, Private Channel options, live One-on-One and Party push-to-talk services, as well as Random person calling features, Rallee is becoming a hot ticket for the mobile voice trend. There is an in depth tutorial available on YouTube for users.
Users connect via Rallee to their social network, currently Facebook, which allows them to browse their Facebook Friends as if browsing a telephone directory, then invite friends to talk and join group conversations. The idea behind Rallee is to get people talking again and to face the fact that sharing a phone number to connect is almost obsolete. This is trend that has sparked major interest in the market as well as tech investors from around the world. The Rallee team received a first round of funding in mid 2012 and since then has made waves in major world markets such as Latin America, Brazil, and India among others.
About Rallee:
Rallee is headquartered in Seattle, Washington. Rallee technology is being developed to assemble groups of people in common social or interest groups simply and easily using push to talk voice communication. Rallee aims to allow the free public or private assembly of people using the world's new directories, like Facebook, Linkedin, Twitter, etc allowing clear open communication in small or large/gargantuan groups. For more information about Rallee please visit their web page or send and email to: info(at)rall(dot)ee.