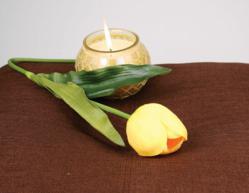 Their signature fragrances are embedded into each petal, giving the flower a strong and pleasant scent.
Parsippany, New Jersey (PRWEB) February 23, 2013
In the 1600s, the tulip became incredibly popular in many countries, such the Netherlands, Turkey, and England. Since then, the popularity of the tulip's bold colors and pleasant fragrance has spread throughout the world. Today, tulips are some of society's most versatile flowers. Used for home fragrance, décor, weddings, get-well gifts, Mother's Day, sympathy gifts, congratulations, and much more, the tulip has certainly made its impact in society. Known worldwide for its beauty, simplicity, and elegance, the tulip is undoubtedly one of the most popular flower varieties around.
Today, people around the world enjoy the sight and smell of tulips, and with the growing popularity of flowers in home décor, the demand for tulips has soared. In recent months, many have come to recognize the beauty and elegance of Jodhpuri's artificial roses. Now, Jodhpuri's renowned product development team has perfected the artificial tulip.
Formed by high-precision mods, Jodhpuri's intricately designed tulips have a natural and realistic look. The amazing elasticity of the stems, foliage, and buds imitates the flexibility of real flowers, while the natural-looking fibers make the tulips look and feel incredibly realistic. Most importantly, Jodhpuri's signature tulip fragrances are embedded into each petal, giving them a pleasant and lasting scent.
While real fresh-cut tulips will only last 5-7 days, Jodhpuri's Scented Real Touch tulips will maintain their pleasant scent and bold color for times to come, which is the same reason their scented silk roses have become so popular in the home décor and fragrance market.
Although friendships may last for a lifetime, a simple tulip definitely won't. Make the next gift one to be remembered with Jodhpuri's exceptional products. Unlike real flowers, Jodhpuri's tulips can be kept as still-beautiful keepsakes for years. Whether you choose Jodhpuri's potpourri, high quality scented silk bouquets, Scented Real Touch Stems, or other floral arrangements, Jodhpuri's products will surely impress.
For more information, or to see Jodhpuri's entire product line, please visit http://www.jodhpurionline.com. Jodhpuri products are also available on http://www.amazon.com, search word "Jodhpuri."
Jodhpuri Inc. is headquartered in Parsippany, NJ, and has been in business for over 23 years. Jodhpuri is a leading manufacturer and distributor of home fragrance and décor products, such as reed diffusers, candles and accessories, potpourri, incense, Scented Real Touch Flowers, water acrylics, artificial greenery, and other related items.