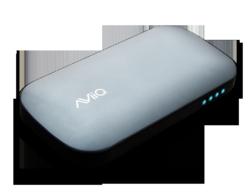 High capacity Portable Power Bank for your smart devices.
Santa Ana, CA (PRWEB) February 25, 2013
AViiQ announces the launch of the new AViiQ Portable Power Bank, the perfect travel companion with a large 4600 mAh battery bank and a super high output charging which can simultaneously charge two devices at the same time. With a charging output of up to 2 amps, the AViiQ Portable Power Bank can handle the battery needs of even the most demanding devices including any USB powered phone and even high power iPad and tablets. The special high-output battery provides ultra-fast charging of up to four times faster than traditional USB batteries. LED status lights in indigo blue are intuitive to use and quickly identify how much power is remaining in the battery. Small and ultra-portable, it fits easily in most pockets or bags and gives the added security that power is always quickly available.
The AViiQ Portable Power Bank features Dual USB Outputs. Output 1 supports 1A max and Output 2 supports 2A max. The Power Bank also features intelligent power features such as battery over charge automatic shut off, dis-charge protection and short-circuit protection in order to improve the battery life and protect valuable USB devices from damage. The Portable Power Bank is made of a durable yet lightweight aluminum casing which gives it an elegant modern design and at only 113mm long by 58mm wide and 17mm thickness, it is one of the most portable high capacity batteries on the market. The Portable Power Bank includes 1 USB cable (micro USB to USB).
AViiQ Portable Power Bank comes with a 100% satisfaction guarantee, a full refund policy within 30 days of purchase and is available for $59.99 at http://www.AViiQ.com.  For more information about this and the entire line of AViiQ products, contact PR representative Alan Yeung at alan(at)aviiq(dot)com.
ABOUT AVIIQ
AViiQ adheres to the tenet that form should follow function. Founded to create consumer mobile electronic accessories that maximize productivity through enhanced functionality and high-end design, AViiQ offers the finest in function and style. Laptops revolutionized the computer world by adding the freedom of mobility and AViiQ transforms that freedom into power. For more information about AViiQ please visit http://www.AViiQ.com.
For additional information on this and other AViiQ products, please contact AViiQ PR at alan(at)aviiq(dot)com or at (949) 515-8840. Follow us on http://www.facebook.com/aviiq for current social updates.