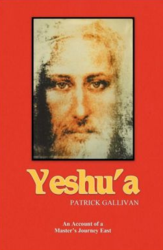 Yeshu'a gives insight on the lost years of Jesus and contains many truths that have long been neglected and overlooked.
New York, NY (PRWEB) February 24, 2013
In Patrick Gallivan's new book, Yeshu'a, he explains why this is not what really happened and hopes to give an understanding to the lost years of Jesus.
Through the ages it has been believed that the Jews crucified Jesus.
Using sources other than those of traditional Christianity to explore the lost years of Jesus's life, Gallivan traces Christ's early travels to India, Nepal, and Lhasa.
The end result, a study for readers in spiritual matters and the many gaps that need to be filled within spiritual thinking.