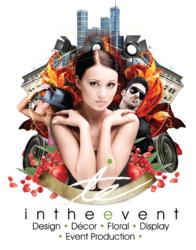 This new catalogue makes us more accessible to potential customers and reflects how unique In The Event is.
Salt Lake City, Utah (PRWEB) February 22, 2013
In The Event, a full service event production and design house, has released a new product catalogue. In The Event has increased their event décor rental inventory and updated their product catalogue to reflect the recent additions of leather furniture, spandex structures and studio and wireless LED par lights. The new product catalogue features nearly 60 pages of event décor, floral design and lighting. The new product catalogue features new concept to creation designs and more than 7 pages of varied event florals, as well as new modular furniture and event portfolio pieces.
The new spandex structures include serpentine, lipped and arched walls as well as a spandex podium. The serpentine wall is available in both left and right orientations and stands 6'W by 8'H. The lipped wall stands 4'W x 6'5"H and can be modified to include a flat screen 'floating' video monitor. The arched wall is 10'W x 8'H and perfect for stage backdrops and sales areas. The podium stands at 24"W x 24"D and features an acrylic top and bottom. LED lights are integrated into curved structures and even those that do not have integrated lights can be lit, allowing these structures to be completely customizable.
In The Event has also added new floral vases to their product catalogue, giving broader options for floral design. A complete selection of tables and chairs, new brown leather furniture and brown wood modular furniture has been added also. New wireless LED par lights have been added to the product catalogue as well as new studio lighting. The new par lights can be lit up to 4 different colors at a time and feature battery packs, making them completely wireless and eco-friendly.
"The new product catalogue features everything we offer and can do here at In The Event. It showcases our expanding inventory and demonstrates a broader scope of our capabilities. We had so much growth happen here in 2012 that we decided to expand our inventory and completely rework and refresh our product catalogue to reflect that growth. This new catalogue makes us more accessible to potential customers and reflects how unique In The Event is." Said Derek Anderson, Senior Designer and Operations Manager.
In The Event is a full service event design company providing the ultimate in products and services to clients throughout the U.S. Their ability to transform your desires from concept to reality makes for an exciting and cohesive planning process. You'll receive the best products and services available while staying in line with your budget. Please visit http://www.intheevent.com for more information.
MEDIA CONTACT: Robert LaSpina, (801) 886-1144