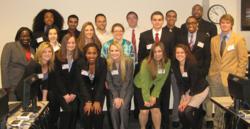 Pittsburgh, PA (PRWEB) February 25, 2013
CEO Bryan Putt, '86, welcomed students from Indiana University of Pennsylvania's International Business Association to spend a day with the AIReS team.
Mr. Putt kicked off the day talking about his own experiences at IUP, and how he never thought it would lead him to his current position. "Your career path," he said, "You'll find it tends to be a very meandering environment."
During his overview, Mr. Putt stressed the importance of finding a path that feels right. "You have to have a passion for what you do," he said. "You have to feel good about it." This same message is conveyed to every AIReS team member during orientation, ensuring the right people are joining the right organization.
"The reality is, in any company, the real assets, the real value is our people," Mr. Putt said, stressing the importance of customer service and a sense of stewardship.
The students received their first look at AIReS' business, global mobility and relocation management, and met with Laura Beron, Corporate Contracts and Operations Manager and who oversees AIReS international staff, Jennifer Murr, Director of Consulting Services, and Ed Hartman, CFO. Each brief presentation included a talk back discussion, where staff members answered questions about their roles and asked the students about their individual career goals.
A group of team leads from AIReS' operations unit also discussed their education and background, what lead them to the company, and how they were able to forge their own path once coming on board.