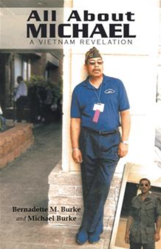 Atlanta, GA (PRWEB) February 24, 2013
Michael Burke almost lost his life fighting to defend the quality of life and freedom valued by all Americans. His experiences on the field of combat in Vietnam were like that of many, yet his spirit prevailed when others crumbled.
"All About Michael: A Vietnam Revelation" is a biography co-authored by Burke and Bernadette M. Burke, his sister, that immortalizes one disabled veteran's journey through the carnage of war and the scars that have stayed close to him for more than 40 years, written in hopes of sharing one man's story but also to aid all those who are affected by the challenges and emotional struggles of military life.
Through it all, Michael never wavered from his commitment to do the right thing. He strives to be the best father, the best husband, the best man he can be, all while struggling to conquer the many demons that would overwhelm him.
The horrors of war, with its many physical and psychological scars, still plague him, yet he remains dedicated to serving the veterans who need him the most, those family's affected by military duties and his community. This biography honors his contributions.
For anyone who has ever been confronted with difficulties in life, that could prevent them from obtaining their dreams and goals, All About Michael: A Vietnam Revelation delivers a powerful and inspirational message of hope.