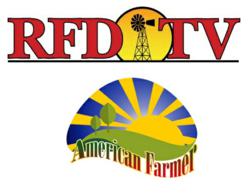 Jupiter, FL (PRWEB) February 25, 2013
The first episode will air on Wednesday, March 5, 2013 at 8:30 am EST on RFD-TV.
This season, American Farmer will explore the people, places, and issues impacting all areas of farm country. From seed to harvest, livestock and more, American Farmer travels the country covering some of the most instrumental players in the Ag industry.
Dedicated to bringing viewers the most up-to-date information on the latest advancements and developments to the agriculture industry, American Farmer brings a wide-range of programming to agribusiness professionals, farmers, equestrian enthusiasts and those with a passion for the rural lifestyle.
"In season one, American Farmer captivated audiences across the nation, and will only continue to do so," said Charlie Cowan, Producer for American Farmer. "I'm so excited to jump-start season two as we uncover more vital information regarding the Ag industry."
Join American Farmer to hear untold stories from farmers instrumental to crop cultivation of the fresh foods and textiles we enjoy daily. From citrus growers to potato farmers, berry pickers to grain harvesters, American Farmer covers major crops grown in the United States. This season, the series also focuses on companies who offer revolutionary technologies to better the industry. Tractors, combines, irrigation systems, planters, tillage, grain harvesters, balers, cutters, shredders, fertilizer sprayers, and seed spreaders are just some of the farm equipment manufactured by our featured guests.
About American Farmer:
American Farmer is a breakthrough program on a mission to showcase the latest advancements and innovations in agriculture and farming.
American Farmer airs Tuesdays at 8:30 am EST on RFD-TV as well as Saturdays at 1:30 pm and Midnight EST on RURAL-TV.
For more information visit: http://www.americanfarmertv.com or call (866) 496-4065.
Contact:
Charlie Cowan, Producer
866-496-4065 ext. 875
charlie(at)americanfarmertv(dot)com