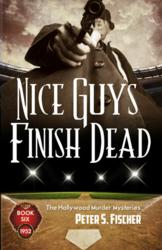 ForeWord Reviews gave Book Three "Love Has Nothing to Do with It" four stars out of five!
Centralia, WA (PRWEB) February 24, 2013
Ever miss the incredible mystery series of 70's television when gore and violence weren't the main characters? The twists of the storyline and believable characters propelled viewers across the country to turn in every week for a new episode. Where have all the talented producers and screenwriters of the baby boomer generation gone?
One such mastermind, Peter S. Fischer, has tucked himself away in the Monterey Bay area of central California and dusted off the old typewriter concept to create a series of delightful and intriguing who-done-its set back in the golden days of movie making, aptly named The Hollywood Murder Mysteries. After decades of working in television, among his credits are "Murder, She Wrote," "Colombo" and many other mini-series and made for television movies, Fischer found he still had characters pounding for exposure.
Recently released number six in the series "Nice Guys Finish Dead" is set in 1952 and proves to be another page turner. Los Angeles, Warner Brothers and former players of the 1940's Chicago Cubs mix into a lethal cocktail for death. Keep this series in mind for a fabulous Father's Day present.
Each strikingly dark cover for The Hollywood Murder Mysteries was designed by Gorham Printing's own Kathy Campbell. Art director for this short-run book printer in western Washington, she has captured the style and emotions of the dark side of old Hollywood. If a picture paints a thousand words, then the other creative sixty-some thousand by Fischer are thoroughly enjoyable.
More information about Fischer can be found at Grove Point Press or at Amazon.com.