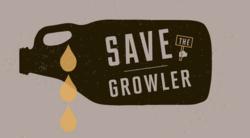 We don't think that success should be punished, nor should the loyal fans of a local brewery lose their ability to spread the love of their favorite beers
Minneapolis, MN (PRWEB) February 23, 2013
The Minnesota Brewer's Association has asked local marketing firm Preston Kelly to catalyze a movement to help pass legislation to Save the Growler. The packaging in question is the 64 oz bottle sold directly from the brewery to beer lovers. Brewers are currently allowed to sell up to 500 barrels per year in growler packaging. But as a craft brewer's production surpasses 3,500 barrels in annual sales, State Law says they can no longer sell growlers at all.
"We don't think that success should be punished, nor should the loyal fans of a local brewery lose their ability to spread the love of their favorite beers," says Chris Preston, Creative Director at Preston Kelly.
"We have a nice track record of creating movements rather than just ad campaigns, and craft brew is something near and dear to our hearts."
The goal is simple: Get the "Growler Bill" passed into law. In order for the current law to change, state legislators need to hear from their beer-loving constituents. They need to hear their voices, receive their emails, read their tweets and postings. They need to see them in attendance when the bill is on the floor. They need to know people will feel the loss of the growler.
As an agency located in the heart of the affectionately named 'brew district,' Preston Kelly jumped at the chance to help lead the Save the Growler campaign. "It's an incredible opportunity for us to help our friends and neighbors in the brewing community," says agency Digital Director Tom Schooley. "Our office fridge is stocked full of growlers from local breweries like Fulton, Indeed and Dangerous Man. As craft beer lovers, we're protecting our own rights as well." Preston adds, "Retailers and Wholesalers are worried about anything that might impact their three tier system, but they've had double digit growth in craft beer retail sales while traditional brewers are down 1%...a big part of the reason is the passion of the brewery faithful."
Preston Kelly has reached out for support in several grass roots efforts to inform and galvanize craft beer enthusiasts across Minnesota to show up to committee hearings and contact their legislators in support of the "Growler Bill." Preston Kelly has tapped Blue Earth Interactive as a partner in the development of the Save the Growler website. Schooley, notes "As fellow home brewers and long-time partners of Preston Kelly, the folks at Blue Earth were the perfect choice to help with the Save the Growler campaign." SavetheGrowler.org launched Friday and will inform supporters about upcoming events and how to support the Save the Growler cause.
About Preston Kelly
Preston Kelly is a full-service, independent agency that creates Iconic Ideas for its clients across multiple categories. Preston Kelly was recently named as one of the top 100 Most Effective Advertising Agencies by Effie Worldwide. Preston Kelly was also selected as Advertising Age's Midwest Small Agency of the Year and Radio Mercury Awards' Integrated Campaign of the Year in 2010. Preston Kelly is a member of Worldwide Partners, the world's largest network of independent marketing and communications firms. To learn more about Preston Kelly, visit prestonkelly.com, become a fan on Facebook or join the