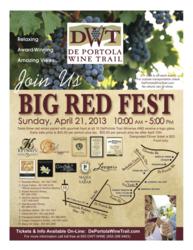 The food pairings are great and you actually get a chance to sit outside and enjoy the views.
Temecula Valley, CA (PRWEB) February 23, 2013
Temecula Valley's southern Wine Trail announced today that it will host its 4th DePortola Trail Big Red Fest. The Fest, planned for Sunday April 21, 2013 from 10am to 5pm will feature 10 wineries on the five mile trail.
Newcomer Fazeli Cellars has joined the boutique winemaker's association this year. Fazeli Cellars winery on the trail is still under development but will pour their wine selections at Gershon Bachus Vintners.
This nirvana of wine-tasting offers three fine red wines and a paired appetizer from Keyways, Robert Renzoni, Gershon Bachus, Fazeli Cellars, Oak Mountain, Leoness Cellars, Danza Del Sol, Cougar Winery, and Masia De Yabar.
Loyalists to the trail said, "It's a relaxing day, instead of a rushed experience. With all of the wineries on one street, it is easy to get around. The food pairings are great and you actually get a chance to sit outside and enjoy the view."
People interested in participating in this tasting experience should go to the DePortolawinetrail.com website. Purchase your ticket and select the winery where you would like to begin your day. The DWT will give each wine-taster a logo glass, and a great experience.
For outside shuttle transportation, the DWT recommends that you contact gogrape.com. They can provide individual seats or a group charter.
Tickets are only $45.00 for the pre-sale until April 15th. After April 15th, ticket prices are $55.00. Designated driver tickets are available for $20.00. You will enjoy 10 appetizers and water or a soft beverage available with this ticket. Designated drivers will not be served any wine.
This event has limited ticket sales and will take place rain or shine. Only for ages 21 and above.
For additional information visit http://www.deportolawinetrail.com or call 855-398-9463.