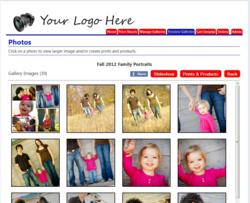 I'm happy with all of the prints I get from the app. — Faith McClain
Traverse City, MI (PRWEB) February 26, 2013
Facebook can be a very streamlined way for photographers to share and spread their images, brand, and secure new business. Photos are one of the major driving forces behind Facebook's popularity and meteoric rise, with over 150 billion images loaded to date. Profile holders are able to download any of these images posted to Facebook, which has prevented many photographers from taking advantage of the marketing that Facebook has to offer.
"We heard about the love/hate relationship with Facebook our group battles with on a daily basis. Using the MorePhotos App eliminates the downside to using Facebook and it is so easy." –Zack Wessels
This is a hole that MorePhotos looked to fill with their new Facebook app, appropriately titled, the MorePhotos App. Now photographers can safely sell their images directly from Facebook. Features include password protection, watermarking images, and full control over which products and prices are offered; including the digital file, prints, coffee mugs, mouse pads, iPhone covers, and many more.
This is the only product of its kind that gives the photographer so much power that was previously unavailable in any stream of social networking, especially on the scale and outreach that Facebook provides.
MorePhotos has been in the professional photography industry for over 12 years, providing websites, shopping carts, and general marketing help to photographers around the world. The company has become a lead innovator in the online photo proofing and sales market. The concept behind the product is a turnkey web presence for professional photographers to upload and sell their photographs to anyone with an internet connection, anywhere in the world. The result of clients using the software is increased sales and exposure using simple to use tools and marketing concepts. For more information, please visit http://www.MorePhotosApp.com, or check them out on their Facebook page for a direct connection to the mentioned services.