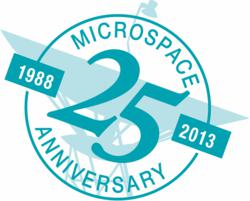 Microspace will be showing a host of content delivery solutions at this year's event
(PRWEB) February 25, 2013
Microspace Communications is excited to announce that they will be at this year's Digital Signage Expo (DSE 2013) in Las Vegas. The DSE will be held at the Las Vegas Convention Center Feb. 27 - 28 and Microspace will be in booth #831.
The DSE is the world's largest international trade show and conference that is dedicated exclusively to digital signage. The show will feature some of the best in the industry, including Microspace and it's world-class satellite broadcasting solutions.
"Microspace will be showing a host of content delivery solutions at this year's event" according to Greg Hurt, VP of Sales and Marketing. Signage networks, large and small, are likely to find a MIcrospace soluton to fit their needs.
Capitol Broadcasting Company, Inc. is a diversified communications company which owns and/or operates WRAL-TV, WRAL Digital, WRAZ-TV, WRAZ Digital, WRAL-FM, WRAL-HD2, WCMC-FM, WCMC-HD1, WDNC-AM, WCMC-HD2, WCMC-HD3, WCLY-AM, WCMC-HD4, Microspace, CBC New Media Group and Wolfpack Sports Properties (a joint venture with Learfield Sports) in Raleigh, NC; WJZY-TV and WMYT-TV in Charlotte, NC; WILM-TV and Sunrise Broadcasting in Wilmington, NC; The Durham Bulls Baseball Club in Durham, NC; and real estate interests including the American Tobacco Project and Diamond View office buildings in Durham, NC.