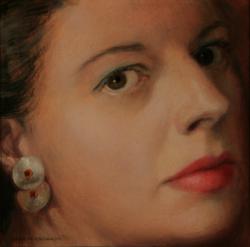 With a determined grit, spunkiness and nervy aplomb, Browning tasted many triumphs. Adventurous and audacious, she willed herself into the forefront of American art at mid-century.
— Dr. Philip Eliasoph
Fairfield, Conn. (PRWEB) February 23, 2013
Artist Colleen Browning (1918-2003) played a significant role in America's contemporary realist movement in the years after 1950. Although she attained sensational early success on the American art scene, her fame has almost entirely evaporated. Fairfield University rediscovers and celebrates the career of this Anglo-American Realist painter with two exhibitions, mounted jointly by the Bellarmine Museum of Art and the Thomas J. Walsh Art Gallery, and on currently on view through March 24, 2013. Exhibition sponsors are the National Endowment for the Humanities and Whole Foods Market. The media sponsor is Venü magazine.
The two Fairfield University exhibitions highlight not only this prolific artist's early works on paper and signature oils from the 1950s, in the Bellarmine Museum's "Colleen Browning: The Early Works exhibition," but also a selection of compelling oil paintings created in the years after 1960, in the Walsh Gallery's "Colleen Browning: A Brush With Magic."
These shows – which will be traveling nationally – were organized by the Southern Alleghenies Museum of Art (SAMA), the world's foremost repository of Browning's work. The exhibitions, which have already appeared, in various formats, at Axis: Ballymun in Dublin, Ireland, at the National Academy Museum in New York City, and at SAMA, will travel to the Butler Institute of American Art in Youngstown, Ohio (April 21-June 16, 2013) and the Amarillo Museum of Art in Texas (October 25, 2013 - January 5, 2014), following their Connecticut debut.
Colleen Browning, of Irish heritage, was born in England in 1918. A child prodigy, she was determined to be an artist from a very young age. She was still in her teens when she first exhibited in London, and she studied at the prestigious Slade School of Art on scholarship. Her first one-person show was in London's Little Art Gallery in 1949. That same year, she moved to New York City, where her works began arousing critical acclaim. She exhibited in the Whitney Museum of American Art's 1952 annual exhibition and held her first U.S. solo exhibition a year later, at the Edwin Hewitt Gallery in New York.
Colleen Browning had the ability to endow scenes from everyday life with touches of "magic realism." She played an instrumental role in the establishment of American Realism, a movement that was dominated by men in the mid-twentieth century. A leader in the modern and post-modern revivals of realism in American art, Browning was a painter whose oeuvre defies easy categorization. At a time when Jackson Pollock and avant-garde American artists were abandoning realism in favor of Abstract Expressionism, Browning stayed true to her Realist vision as well as her training as a figurative painter. Her works reveal a deft hand in the rendering of human anatomy and a facility with perspective: testaments to her studies at London's Slade School of Art, where she was introduced to the methods and manners of the Old Masters in keeping with the European academic tradition, which dates back to the 16th century. Complementing her academic training was Browning's remarkable capacity to capture fleeting moments.
Throughout her illustrious career, Browning was a teacher, mentor, and role model to artists at the Pratt Institute, the City College of New York, and the National Academy of Design. Her works are held by many private and public collections, including the Detroit Institute of Arts, the Milwaukee Art Center, the St. Louis Art Museum, the Southern Alleghenies Museum of Art in Pennsylvania, and the New York State Art Museum.
She was selected to exhibit in many major invitational exhibitions at venues such as the Whitney Museum in New York, the Pennsylvania Academy of Fine Arts, the Cleveland Museum of Art, the Walker Art Gallery in Minneapolis, and the Carnegie International in Pittsburgh. Her work was featured in Time, Newsweek, Glamour, the New York Times, Arts Magazine, Art International and American Artist.
The Bellarmine Museum of Art is open Monday to Friday, 10 a.m. to 4 p.m. when the University is in session and is located on the lower level of Bellarmine Hall on the campus of Fairfield University, 1073 North Benson Road, in Fairfield, CT. Admission is free. Call 203-254-4046, or visit http://www.fairfield.edu/museum.
The Thomas J. Walsh Art Gallery is located in Fairfield University's Regina A. Quick Center for the Arts. Hours are Tuesday-Saturday: 11 a.m.-5 p.m.; Sunday: 12 p.m.-4 p.m. (Closed on Monday). The Gallery is also open one hour prior to curtain and during intermission of Quick Center performances and closed at any time the Quick Center is closed for the holidays. The Quick Center is located on the campus of Fairfield University, 1073 North Benson Road, in Fairfield, CT. Visit: http://www.fairfield.edu/arts/qc_walsh.html