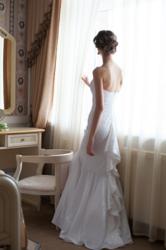 Newport Beach, CA (PRWEB) February 25, 2013
After a proposal has been accepted, many brides get excited and almost immediately begin dress-shopping without first going over wedding details, such as the reception location, with their new fiancé. Miley Cyrus is no exception, says Wedding.com.
The singer/actress admits to not yet talking wedding specifics with her fiancé, actor Liam Hemsworth, but Cyrus tells People Magazine in an interview that she has already begun her search for a wedding gown, citing designer Marchesa as a definite option (http://abcnews.go.com/blogs/entertainment/2013/02/miley-cyrus-opens-up-about-wedding-plans/). Though Cyrus is likely beginning her wedding dress shopping to get a feel for the styles and designs she likes, Wedding.com cautions brides to first discuss with their grooms what type of wedding is preferred before making the final purchase. One bride may be more appropriate in a simple dress at her intimate wedding while another may be more suited to wear an extravagant dress at her grandiose wedding. A bride should be confident the wedding dress she chooses is the one she will still love and find comfort in when the big day finally arrives.
"Brides should bear in mind their wedding venue when selecting their dress. A ball gown, for example, may not be the best option for a small affair on the beach," says Brett Reynolds, CEO of Wedding.com. "A wedding dress can be a very expensive investment and should be purchased with confidence. Miley Cyrus would do well in figuring out where her wedding will be prior to making her purchase."
For more information about Wedding.com, please visit http://www.wedding.com.
About Wedding.com
Wedding.com is an innovative new website that connects engaged couples planning their wedding with wedding vendors looking to grow their business. Wedding.com contacts vendors for couples, giving them the power to compare and negotiate while ultimately saving time and money. With 12,000 couples and 22,000 vendors currently using the website, 105,000 proposals have already been sent since their inception. Vendors range in services from wedding planners, photographers, florists, and DJs to custom invitations, party favors, and much more. For additional information about the company and its services, please visit http://www.wedding.com.