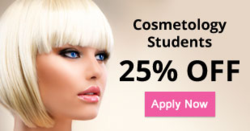 So far, the response has been extremely enthusiastic.
Los Angeles, California (PRWEB) February 26, 2013
Lady de Cosmetic, a major online retailer of discounted cosmetics, is offering an ongoing 25% discount on all regular price items in their vast inventory to students and faculty members at beauty schools, cosmetology schools, and motion picture makeup artists-in-training. As part of this deal, Lady de also also extends occasional special offers that give students an even bigger discount.
Lady de Cosmetic's website (http://www.ladydecosmetic.com) touts a seemingly endless array of eye, lip and nail colors, makeup kits, cosmetic cases, blush and face powders for every skin type.
In recent years, buyers of cosmetics and beauty supplies have noticed that prices on these products seem to go up every time they turn around. Customers have begun to wonder if the big-name cosmetics brands are driving up prices artificially. Lady de Cosmetic is doing its part to counter this trend by offering wholesale prices to retail customers online. And now they are reaching out to beauty students and the institutions who teach them.
"We are quickly being recognized as the low price leader for all kinds of cosmetics products," says Daniel D., the company's general manager, "and we want to share our success with beauty students and educational institutions in our field as our way of giving back to the community."
Qualified schools and students can take advantage of this offer by going to http://www.ladydecosmetic.com. Click on Customer Service, click on Company Info, click on Student Discount Program and set up a login I.D. Schools and educational institutions will be given a permanent redemption code that they can give to all their students. Students will be given a one-time redemption code they can use for their next purchase at Lady de Cosmetic.
"So far, the response has been extremely enthusiastic," says Daniel D. "We're happy to to be helping out cosmetologists of the future by providing them with affordable tools of their trade."
News provided by TRIXMEDIA Online Marketing Team