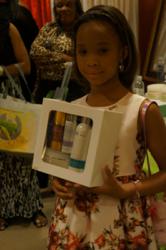 The welcome we received exceeded our expectation and all of the stars greeted our products with open arms. We couldn't have asked for more! - Claudio Correia, President, Boca Cosmetics Group
Boca Raton, Florida (PRWEB) February 26, 2013
Last night the team from Olez was watching the academy awards cheering for their newly made friends. For three action packed days, scores of Hollywood's stars, some with their entourages, others with their families or BFF's spent a generous amount of time with Olez being pampered and enlightened during the Roger Neal Style Hollywood gifting suite held at the renowned L'Ermitage Beverly Hills Hotel.
"We made a lot of new friends," said Claudio Correia, President of Boca Cosmetics Group, manufacturer of the internationally acclaimed, professional hair care brand, Olez.
The Boca Raton based company just returned from Hollywood where their luxurious line of products was featured at an exclusive, invitation only, beauty and couture suite for Academy Award nominees and Hollywood notables.
"Our goal was to pamper the stars and introduce them to the newest and most remarkable hair treatments available today," said Correia. "The welcome we received exceeded our expectation and all of the stars greeted our products with open arms. We couldn't have asked for more!"
Stars that visited Olez included:
Winners & Nominees
Shawn Christensen & Damon Russell – Academy Award Winner, best live action short, for Curfew
Quvenzhané Wallis – Nominee Best Actress, Beasts of the Southern Wild
Josh Penn – Nominee Producer, Best Picture, Beasts of the Southern Wild
Cori Shepherd Stern – Nominee Producer, Documentary, Open Heart
Stars
William Shatner and wife
Patty Stanger – Millionaire Matchmaker
Courtney Stodden-reality star
Kaitlyn Jenkins – ABC Family's Bunheads
Abigail Hargrove – co-star with Brad Pitt inWorld War Z, to be released in a few months
Degrassi Cast
Shahs of Sunset Cast
Marilu Henner
Marcia Gay Harden
Sofia Milos
Carolyn Hennesy
The stars were the first people to be introduced to O2, Olez's unique oxygen therapy program that detoxifies the hair and scalp. When applied, oxygen is released and removes all impurities from the hair and scalp followed by an infusion of essential nutrients and oils required for healthy and luxurious hair.
Olez's products combine the most advanced technology with the finest natural ingredients found around the world resulting in healthy, shiny and revitalized hair.
"When you are in show business your hair is put under a lot more strain and duress," said Olez's Creative Director and celebrity stylist, Edward Teitel. "Everyone was so happy to learn about our products that concentrate on hair restoration," he said. "The apple smell in INCEPTION was so good many wanted to know if they could eat it," Teitel added.
"The stars and their stylists that visited with us were just wonderful. So nice and down to earth," said Jeremy Lurie, Marketing Director for Boca Cosmetics Group.
The Olez Nominee Gift Packages include the complete line of INCEPTION Home Care Products enhanced with apple stem cells.
INCEPTION Invigorating Shampoo
A gentle cleansing shampoo suitable for daily use. Apple stem cells, mica and muru-muru provide conditioning benefits that fortify the hair from within. It is free of parabens, sodium chloride and sulfates.
INCEPTION Invigorating Conditioner
A paraben free, creamy conditioner, suitable for daily use on all hair types. Helps detangle hair, split ends and provides hydration for improved manageability and ease of styling.
INCEPTION Stem Cell Masque
A rich, creamy formula that restores the hair's elasticity and provides deep hydration by using a combination of apple stem cells, muru-muru, cupuacu, pracaxi, argan oil and carite butters. The masque maintains the hair's healthy luster for incredibly soft, sleek and shiny hair. It is good for all hair types.
INCEPTION Argan Oil & Pracaxi Spray
The environmentally friendly aerosol oil spray contains a special blend of natural Argan and Pracaxi oils and antioxidants that can be used daily for protection from harmful UV rays. Hydrates and conditions hair while maintaining silky, shiny, smooth hair all day long.
Zelo Velvet Gloss
Velvet Gloss is a blend of natural oils from grape seeds, minerals from the Amazon forest, and organic silicone that will coat the hair, eliminating split-ends and tangles. Its properties will rejuvenate all hair types, protecting against frizz and extending color and shine.
In addition to the VIP gift box, Olez offered innovative hair care treatments at the suite and informed celebs about the benefits associated with Essence of Youth, O2 and NutriFuze™. These three new products are consistent with Olez's objective of providing innovative, professional hair care that contain restorative properties in a market in need of effective solutions.
In the same manner that BOTOX® and other cosmetic procedures smooth wrinkles, Olez's Essence of Youth is formulated to smooth away imperfections in damaged hair. Essence of Youth promises to turn back the hair's clock by removing damage accrued over years of chemical processing, heat styling and natural elements. It contains active natural ingredients with restorative properties capable of repairing broken hair fibers, giving hair a youthful, smoother look, while restoring hair strength.
The next stop for Olez will be America's Beauty Show, March 9-11, 2013, McCormick Place, booth 1855 and will be offering demonstrations and training on Sunday, March 10th.
For more information, olez.com, email info@olez.com or call 800-251-2479.
About Boca Cosmetics Group
Boca Cosmetics Group is a manufacturer of innovative, quality hair care products that combine natural ingredients with the latest technology, to deliver health and beauty.
Disclaimer: BOTOX ® is a registered trademark of Allergan, Inc. and is not affiliated with Boca Cosmetics Group or Olez in any way, shape or form.
# # #
Editorial Note: Samples and photos are available by request.
Jeremy Lurie (561) 431-1477, Boca Cosmetics Group
Terri Lynn (954) 677-1030, Supers