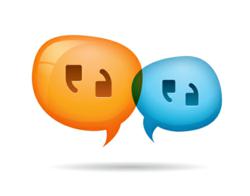 Companies that provide live chat applications can empower businesses to get consumers the answers they want.
Grand Junction, CO (PRWEB) February 26, 2013
Having your own website is almost mandatory in today's marketing world. More and more consumers are shopping online than ever before. While increase in traffic is good for visibility, if consumers aren't engaged with the company, sales can remain the same. Statistics show that engagement on live chats has increased 15% in less than three years.
According to Forrester, "Many online consumers want help from a live person while they are shopping online; in fact, 44% of online consumers say that having questions answered by a live person while in the middle of an online purchase is one of the most important features a website can offer. Proactive chat can provide this type of customer support, ultimately achieving multiple business goals for eBusiness professionals, including reducing abandonment, improving conversions, and driving customer satisfaction. Implementing proactive chat can be a complex process that requires aligning multiple business areas."
Not surprisingly, companies that provide live chat applications can empower businesses to get consumers the answers they want. Whether it be questions about pricing, shipping, or even questions relating to services, businesses now have the opportunity to provide instant solutions. This adds an incredible amount of benefits to both the consumer and the company. The consumer is provided an excellent customer experience and the company can gain analytics to help better serve customers and improve sales and support.
The integration of telephones was highly effective when it came to providing a service to customers. The Yellow Pages slogan, "Let your fingers do the walking" implied that customers no longer had to physically travel to get answers. Now it's even easier for customers to get answers from certain businesses if they have integrated a live chat function.
Addressing customers' questions instantaneously is highly effective in increasing sales. But, businesses need to remember that using an online chat can be beneficial to calming frustrated customers as well. A disgruntled customer that has the opportunity to vent their frustrations might want to do so on a website's live chat. This gives businesses the direct advantage over their competition in order to resolve the issue in record timing.
BlueFinn Creative Group, a local company committed to providing marketing in Grand Junction, has used this live chat feature in some of their web design and development projects. If you want to learn more about their web design services, visit their website bluefinn.net.