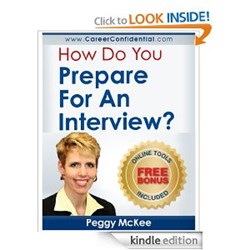 Dallas, TX (PRWEB) February 28, 2013
If there is anything a job seeker needs today, this eBook "How Do You Prepare For An Interview" written by Career Coach, Peggy McKee and just released by Career Confidential, is it. Complimentary copies are available on Amazon for a limited time until March 2, 2013. Anyone that has been in the job market recently can benefit greatly from the wisdom that Peggy McKee has to share. She has learned from the inside what hiring managers are looking for in an interview and many job seekers are missing it altogether.
This eBook will be available complimentary on Amazon for a limited time from Career Confidential. Peggy McKee, the CEO and a Career Coach provides all the hints, secrets and tips that she has gained over her 13 plus years in this field in this recent released eBook. Confidential Career is offering it complimentary for a limited time only beginning February 26, 2013 through Amazon. In exchange for this complimentary guide that tells job seekers all they need to know about how to interview, Career Confidential asks for reviews to be posted afterward.
A complimentary copy of "How Do You Prepare For An Interview" will be available through Amazon for three more days in exchange for a review to be posted. No matter the experience level of the job seeker or what position the interview is for, this recent released book on Amazon, written by Peggy McKee, Career Coach and CEO of Career Confidential, is the guide that will help nail the interview and can get any job seeker an offer.
The CEO of Career Confidential, Peggy McKee has many tips and tricks she has picked up from hiring managers in her book "How Do You Prepare For An Interview" that will be available on Amazon complimentary on February 26, 2013. The job market is tough today and the information that Peggy has to share is what it take to give a great interview that leads to job offers. Career Confidential is offering the eBook for a limited time on February 26, 2013 on Amazon so that every job seeker has the opportunity to learn how to interview the way hiring managers want.
Job seekers who take advantage of this complimentary offer before Saturday, March 2nd will learn a new perspective on how to prepare for that next interview and make it the last interview. The tips and tricks that Peggy McKee had found out and is sharing in her eBook "How Do You Prepare For An Interview" is the tool that every job seeker should have. As the CEO and a Career Coach, Ms. McKee knows what hiring managers like and what they dislike. This complimentary eBook is a tell all book and will be available through Amazon for three more days until the price is raised on Sunday.
# # #
Career Confidential is committed to getting the unemployed back to work in 2013. After assisting over 10,000 people get a job, Career Confidential has set a goal to get 10,000 more people their dream jobs in 2013. Career Confidential exploded in 2012 with a 94% growth rate over 2011 in a down economy.
Based in Texas, Career Confidential specializes in the techniques and tools needed for a job search to be successful. This product is a customized and proven system that gives job seekers the power they need to nail the job they want.
With the guidance of CEO Peggy McKee and CTO Carl Chapman, two nationally recognized experts in the field of job search training, Career Confidential was founded in 2009 so that the original product, The 30/60/90 Day Business Plan, could be distributed more widely among job seekers across the world. From that one product, they now offer over 30 products that teach techniques and tricks to help every job seeker to land that perfect job.