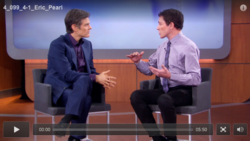 Interest in Reconnective Healing has rapidly grown after Dr. Oz featured Reconnective Healing on The Dr. Oz Show.
Munnsville, NY (PRWEB) February 23, 2013
"Some people call because they're in pain, and need help now," explains Reconnective Healing practitioner Tim Emerson, of Kwan Yin Healing. "Others have heard about The Reconnection and found me in the practitioners' directory, ready to work together. But lots of other people are simply curious and intrigued, and need a way to check out Reconnective Healing beyond reading about it."
That's what sparked the idea of offering group healing, to let people dip in their toes before wadding in for a healing session. "Often people don't really have a conscious reason, but feel a pull to experience this healing. And often they have friends who would be curious, interested, or need to get a taste of healing to proceed to more individual work," adds Emerson. "This lets people share with their friends without fear of looking too 'out there' – it's low risk--actually no risk."
So Tuesday, Feb. 26, at 7 p.m. EST, Emerson will offer an informative, question and answer teleseminar session on Reconnective Healing and group healing. He will explain the basics of Reconnective healing and how group healing works, answer any questions people have, followed immediately by a Group Healing session. There is no charge for the call. Interested people can register for the call for the call-in details. Participants will also have access to a closed Facebook page, where they can ask questions privately (only people in the group will see these questions).
"People always ask me what I feel," notes Emerson. "I did a group healing for the last teleseminar I did in November. I felt dense light, chills – which are often associated with rapidly rising vibration -- and electricity-like pricking in my hands, often associated with feeling touched or seeing other people energetically."
Some of the participants in that teleseminar shared their experience with the group healing on his Facebook page:
Erik: "I Noticed waves of light at the beginning like looking at a shifting interference pattern then felt the energy shift. It felt similar to Theta, Matrix or some shamanic practices I've experienced."
Bruce: "I felt a tingling in my root chakra at first followed by heat in the palms of my hands. The heat grew in intensity until I realized they were on my chest. I moved them to my sides and felt warmth in my belly and chest briefly."
Pat: "The healing began with waves of light at my left foot and traveling diagonally up my body, followed by an intensity of energy focused on my left leg. The leg felt very dense; I've had some problems with that foot and knee over the past few weeks. Then it traveled behind my mid back entering behind my heart. A general feeling of well being followed with tingling on my soles. Very good session."
Helen: "There was a pronounced tingling sensation on my lower lip and inside my mouth.. Towards the end of it I fell asleep! (It had been a busy day! I assume all normal!! Thanks again."
Janina: "The cat you worked on a few months back INSISTED on being in my lap and wouldn't leave for a half hour, at the end of the session. I felt sleepy and like I was physically charging."
Sue: "I was in the car at the time, so couldn't stop and close my eyes. But I definitely felt something."
Interest in Reconnective Healing has rapidly grown after Dr. Oz featured Reconnective Healing on The Dr. Oz Show. Chiropractor Eric Pearl, who discovered Reconnective Healing in 1993, demonstrated healing live on the show, which also featured a testimonial from ER physician Dr. Philip Ralidis, whose son was healed through Reconnective Healing. Dr. Pearl even taught Dr. Oz and the audience the basics of performing the healing. Links to the three clips from the episode are posted on the Kwan Yin Healing web site's "How It Works" page. "The Kwan Yin Healing Facebook page alone has added 1100 new fans in the past three weeks," Emerson adds.
Emerson has a series of new content rich teleseminars planned for March and April, all of which will include a free group healing, to introduce the substance of his new program, "The Reconnective Journey," an eight week teleseminar offered in May and June to accompany The Reconnection. "The two months following The Reconnection are often a rapid shift," explains Emerson. "This program both smooths out the sometimes tumultuous bumps of that process, while deepening the practical benefits of The Reconnection, ensuring this shift is put to the best possible use." Emerson adds that "Interested people may join the email list."