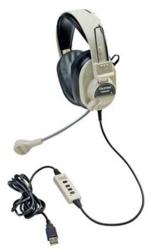 "Califone is proud to partner with a global leader in the development of spoken language training software," said Tim Ridgway, vice president of marketing for Califone.
San Fernando, Calif. (PRWEB) February 25, 2013
Califone International, Inc. announced today that Carnegie Speech, the premier developer of software for assessing and teaching spoken language skills, will now provide Califone headsets to support its speech recognition software.
Carnegie Speech has thousands of customers throughout the world including universities, colleges, adult education programs, and K-12 schools, as well as in homes and offices of individuals enrolled in distance learning programs. Califone headsets will be used to supplement training programs like NativeAccent®, which helps non-native speakers significantly improve spoken English skills in 10 or more hours of instruction. The partnership enables education institutions and providers to effectively support their learners with language learning labs fully equipped with the high-quality products they need, as well as offer blending learning opportunities that personalize instruction for every student.
"Carnegie Speech chose Califone because of the high-quality, versatility and durability its headsets offer our users," said David Oberlin, vice president, US Education for Carnegie Speech. "The successful use of speech recognition software requires headsets that are attuned to the mid-range tonalities of the human voice. Califone headsets meet this criteria and have proven to be a great match for our language learning programs."
Califone offers versatile and comfortable headsets designed for the rigors of educational use in a variety of academic settings, including online assessments (such as ELA within Common Core and foreign language Advance Placement Testing), literacy and language development activities. Carnegie Speech will offer its U.S. education customers the Califone Multimedia Stereo Headsets (3064) and Deluxe Multimedia Stereo Headsets (3066).
"Califone is proud to partner with a global leader in the development of spoken language training software," said Tim Ridgway, vice president of marketing for Califone. "Through our partnership with Carnegie Speech, we're able to expand support for educational institutions as they work with students of all ages and abilities to speak and understand new languages."
In addition to supplementing programs like NativeAccent, Califone headsets will be used to support the Carnegie Speech Assessment®, a one-hour assessment of spoken English skills in pronunciation, word and sentence stress, fluency, and grammar. Also, Califone headsets will augment programs like Climb Level 4™ (aviation English training), Speak Iraqi and Speak Russian – all offered by Carnegie Speech.
Carnegie Speech will debut the Califone headsets with its offerings at the Teachers of English to Speakers of Other Languages (TESOL) International Convention and English Language Expo in Dallas, March 20-23.
About Califone
Califone was founded in 1947 and continues to be a leader in the design, development and manufacturing of audiovisual and supplemental curriculum products for use in education, presentation and professional markets. The company offers a complete line of audio solutions, wireless systems and multimedia products for small, medium and large presentation needs. Califone serves millions of educators and students in the PreK through higher education school environments, and has expanded to serve business and industry, houses of worship, parks and recreation, and other presentation markets as well. Learn more at califone.com.
About Carnegie Speech
A global leader in the development of spoken language training software, Carnegie Speech prepares enterprises and individuals to speak and understand new languages through personalized, immediate and pinpointed language analysis and instruction. Incorporating the linguistic expertise and technical innovations developed through decades of research at Carnegie Mellon University's Language Technologies Institute, Carnegie Speech maximizes the effectiveness of spoken language instruction while minimizing training time and expense. From spoken language training to facilitate commerce and enhance education, to mission-critical communications to improve safety and security, Carnegie Speech products are used by business, aviation, government, education and health care enterprises that depend on effective spoken language communications. Carnegie Speech is based in Pittsburgh, Penn., and its primary investors include Osage Venture Partners, Golden Seeds and New York Angles. Visit http://www.carnegiespeech.com for more information.
# # #