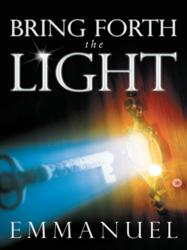 I've always heard, "Love thy neighbor as thyself," but I've not seen many do it.
Boston, Massachusetts (PRWEB) February 26, 2013
"What's wrong with giving to another human being?" This is the question that has driven Emmanuel's life. He shares stories of sharing inspiration and joy with others and inspires others to do the same in his new book Bring Forth the Light."
"I've always heard, 'Love thy neighbor as thyself,' but I've not seen many do it," he says.
Based on Emmanuel's personal quest to spread inspiration and love to the world, he shares stories where he has done so and how this has affected others. In "Bring Forth the Light," Emmanuel shares experiences where he has shared love and light with people around him, often in situations where they least expect it.
Emmanuel's life has not been simple, and he candidly shares how he has been subject to bullying and poor treatment at various points in his life. However, instead of succumbing to negative thoughts or lashing back with similar actions, he has chosen to share love with those around him.
An ordained spiritual minister and certified regression therapist in the Order of Melchizedek, Emmanuel also understands humans' need for love and how important it is for people to share that love with others. According to Emmanuel, it is a discipline that is not always popular in today's world, but it is one that is important.
"All there is, is love," he says. "I did my best to paint my world with love."
"Bring Forth the Light"
By Emmanuel
ISBN: 978-1-4525-6196-7(sc); 978-1-4525-6197-4 (hc); 978-1-4525-6195-0 (e)
Softcover, $14.99
Hardcover, $30.99
Ebook, $6.99
Approximately 180 pages
Available at http://www.amazon.com and http://www.barnesandnoble.com.
About the author
Emmanuel is a trained spiritual medium who has had the guidance of James Van Praagh, John Holland, Tony Stockwell, Marilyn Whall and Jose Gosschalk. He is a certified regression therapist under the training of Brian L Weiss, MD, and is a spiritual minister under the Order of Melchizedek. Emmanuel has been bringing forth messages from spirit for more than twenty years, as well as guiding others through regression therapies. Between homes in New York and Boston, Mass., he and his wife Elia travel and enjoy their life's journey. For more information on them and their mission, visit http://www.totallyforspirit.com.