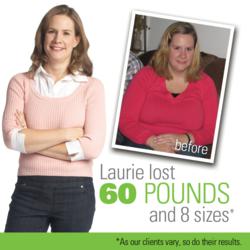 "With the help of Herbal Magic experts and personal coaches, you and your family can find the weight-loss program that's right for you," Caroline Kolompar, CMO.
Toronto, Ontario Canada (PRWEB) February 25, 2013
Herbal Magic is pleased to introduce a limited time offer to help Canadians save 50 percent while achieving weight-loss results with its common-sense system of real food, personal coaching and natural health products for successful, lasting weight loss. As Canada's leading weight-loss company, Herbal Magic helps 40,000 people annually meet their weight-loss goals and live healthier lives with effective weight loss programs designed for men, women and youth aged 12-18.
Though the number of Canadian adults that are overweight or obese remains stubbornly high at roughly two-thirds of the population, what's become more troubling is an emerging trend trickling down to kids. Recent Canadian statistics suggest as many as three in ten children or adolescents are overweight or obese. Mounting research also suggests that most parents and children have an inaccurate perception of what constitutes obesity or registers as overweight, according to medical benchmarks. When everyone in the family is overweight, it becomes harder to recognize exactly what overweight looks like because perceptions are skewed. That's why it's increasingly important to take action and develop positive habits for the whole family.
While it's tough to get active any time of the year, it's especially difficult in winter when the draw of staying cozy indoors seems too great. But now is the perfect time to get outdoors and active. Here are a few winter activities to set the family on the right path towards developing healthy habits.
Ice skating – Most community rinks offer family skate times on weekends and ice skating is a fun, cost-effective way to help families get active and spend time together. For the price of admission and a pair of skates, the average adult can burn up to 500 calories per hour, depending on the individual's weight and the speed and intensity with which family members are lapping the rink.
Sledding – Tobogganing doesn't have to be age-restrictive! Instead of standing at the top of the hill or offering to make hot chocolate or sloppy Joe sandwiches for afterwards, join in for an afternoon of family fun. The kids might want to quit early if their friends have vacated the hill for video games indoors, but sledding with mom or dad at the biggest hill in town can keep the whole family occupied for a longer period of time. Best of all, an hour of sledding can burn more than 600 calories!
Skiing – Instead of escaping winter, think about embracing the season: Consider a family ski trip instead of that all-inclusive, indulgent vacation down south. There really isn't such a thing as bad weather; there's only bad dressing with poor clothing choices and inappropriate gear for the conditions. Bundle up and enjoy all winter has to offer with a holiday on the slopes. An hour of skiing can burn more than 400 calories.
Getting active is a good first step to maintaining a healthy weight. Not sure where the family falls in terms of a healthy weight range? Body Mass Index (BMI) is an assessment that health experts, including the World Health Organization, and physicians use to determine whether someone is overweight, underweight or within a healthy weight range. Try Herbal Magic's handy BMI calculator to determine whether the Herbal Magic weight-loss program is the next step.
"Family dynamics can have a huge impact on nutrition and activity levels so it makes sense for a lot of families to begin a weight-loss journey together," said Caroline Kolompar, Chief Marketing Officer for Herbal Magic Weight Loss Centres. "Before starting our program, we conduct an in-depth consultation to ensure that health concerns, medical conditions, and current medications are considered and accommodated. With the help of our experts and personal coaches, you and your family can find the weight-loss program that's right for you."
About Herbal Magic
With approximately 280 weight loss centres nationwide, Herbal Magic is the largest Canadian owned and operated weight-loss company in Canada. Every Herbal Magic Canada team member has been extensively trained and certified as an Herbal Magic Personal Health Coach. With the support of its Scientific Advisory Team – comprised of naturopathic doctors, nurses and dieticians – Herbal Magic's weight-loss experts have the experience, training and tools needed to support clients throughout their weight-loss journey. Herbal Magic's comprehensive system of real food, personal health coaching and natural health products is, quite simply, a common-sense approach to lasting weight loss. Visit http://herbalmagic.ca to learn more.