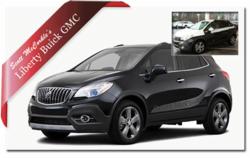 Charlotte, NC (PRWEB) February 23, 2013
Buick Dealership Owner, Scott McCorkle, announces the arrival of the first 2013 Buick Encore at Liberty Buick GMC, Independence Blvd, Charlotte, North Carolina.
For car enthusiast or Buick Dealership owners this announcement is huge but the sometimes not so obvious fact is that potential Buick customers benefit by knowing when and where the first new model arrives. Getting the new Buick model on the ground early gives McCorkel's dealership an edge and provides serious savings for customers.
McCorkle explains, "You see, car dealerships work on volume. The more Buicks you sell the more Buick inventory the manufacturer sends to your shop." He adds, "More volume equals lower pricing for the customer because of the rewards provided by the manufacturer."
Following that logic there is not better price, variety, or selection if you are looking for a Buick Encore in North Carolina.
But are people clamoring to buy a Buick? Initial sales reports indicate car customers in the United States are indeed enthusiastic about buying the new model. Timothy Cain, writer for Good Car Bad Car Auto Sales Data, reports that the sales figures put the Buick Encore up there with the top performing small SUVs in the United States.
Don Sherman, reporter for Car and Driver reports "This Buick offers exactly what the teeming masses need to enjoy their daily commutes and leisure trips: the all-essential elevated driving position, good outward visibility, seats for a couple of extra folks, room to haul home lots of mall booty, exemplary gas mileage, and a means of transporting Fido with nary an angry bark."
Scott McCorkle believes the Encore is so popular because of the quiet ride and fuel efficiency. The Encore is designed with fuel efficiency in mind, by using 60% high-strength steel in the body structure. This provides the safety of high-strength steel while reducing the weight and making the vehicle more aerodynamic therefore saving on fuel.
"Right from its inception, Encore was designed to offer customers the safety and comfort expected of any Buick, but with an added emphasis on space and fuel efficiency," said Vehicle Chief Engineer Jim Danahy. "We did things like specify one optimized wheel and tire package to ensure that every customer has the best driving experience possible."
Dealerships like McCorkles and auto data sites like Good Car Bad Car continually monitor national trends. Customers are advised to check these sites for current sales trends before investing in a Buick.