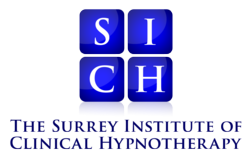 Professional hypnotherapy training needs to prepare the hypnotherapist for what happens in practise
Wallington, Surrey (PRWEB UK) 23 February 2013
There are so many hypnotherapy courses available that the choice and variety is overwhelming and, quite frankly, baffling.
The directors at The Institute are inundated with calls from would-be students that are completely confused about what type of training to undertake. So today they have published an article called, "Hypnotherapy training - the key facts", that aims to take the confusion out of the process of choosing the right school for them.
With simple and easy to understand tips, they set out the things to look for in a potential school. They believe that the advice will stand the potential student in good stead, no matter where they are in the world.
Even the professional hypnotherapy associations are numerous and diverse. The Surrey Institute believe that The National Council for Hypnotherapy (NCH) lead the way and that for pupils in the UK they should be choosing a school that is accredited by them. The NCH require that a hypnotherapist has training that meets the national occupation standards and that the qualification is externally accredited.
Paul Howard, Institute Director, says "The vast majority of schools mark their own students work. This is obviously open to abuse and no real standard can be relied upon. The NCH schools have to meet the standard set by the N.C.F.E. which is a government accrediting body. They are the largest non-for-profit professional hypnotherapy association in the UK."
"Professional hypnotherapy training needs to prepare the hypnotherapist for what happens in practise. So many hypnotherapists are trained to fail. Learning lots of techniques and medical knowledge is very poor training indeed. In the main, medical knowledge is irrelevant. Hypnotherapy is not about following the medical model as for most clients they have tried that and it hasn't worked. Hypnotherapy is a complimentary therapy and should work to support the medical work, but work in a different way in parallel."
Paul Howard is a trainer and practising hypnotherapist at The Surrey Institute of Clinical Hypnotherapy in Wallington, Surrey, UK.
The Surrey Institute of Clinical Hypnotherapy run intensive and weekend diploma courses throughout the year. Their courses are always done in small groups and The National Council for Hypnotherapy - the première hypnotherapy governing body in the UK, externally accredits the diploma.