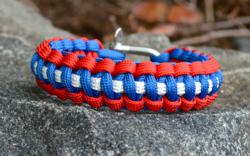 the original paracord bracelet served its purpose as a survival tool and a fashion accessory, but the redesigned paracord bracelet dramatically improves upon the original
Longmont, CO (PRWEB) February 27, 2013
Rugged Apparel, a leading manufacturer of paracord products, announced today that it has revamped its popular paracord bracelet that is sure to please new customers and long time fans alike. Rugged Apparel's paracord bracelets have been worn as a fashion statement while still doubling as a survival tool, providing up to 20 feet of 550 paracord that is weaved into every bracelet. The improved design is promised to exceed expectations and outperform any other paracord bracelet on the market today.
"When people wear a paracord bracelet, they not only want it to look good, but they also want it to be practical and useful as well," says Nick Mertz, owner of Rugged Apparel. He continues, "We strive to exceed expectations and deliver the highest quality, American-made paracord products with a 100% satisfaction guarantee. We are confident our fans will love our new paracord bracelets that not only look great, but carry more paracord in every bracelet as well. "
New improvements to the paracord bracelet include: a tighter and more compact weave, allowing every bracelet to contain more paracord, a burn-mark free finish which enhances the overall look, and more sizes to choose from. Rugged Apparel also announces that all of these changes will come without an increase in price. Owner Nick Mertz developed the original Rugged Apparel paracord bracelet while he attended college at Colorado State University after a lengthy trial and error period. He notes, "the original paracord bracelet served its purpose as a survival tool and a fashion accessory, but the redesigned paracord bracelet dramatically improves upon the original."
About Rugged Apparel (http://www.ruggedapparel.com)
With the avid outdoorsman to the weekend warrior in mind, Rugged Apparel has created the most customizable lineup of paracord products available today to fit each individual's need. Rugged Apparel's product line, proudly made in America, offers anyone the opportunity to customize a bracelet that they can wear everyday but could always use if needed. Each and every product is handmade, tested and proven to be of the highest quality standards and ready to wear when you receive it.