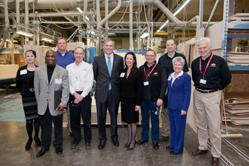 We appreciate the governor's continued focus on the Aerospace and Defense industry and we are committed to hiring as many skilled veterans that re-enter the workforce
Tacoma, WA (PRWEB) February 24, 2013
Governor Inslee visited General Plastics Manufacturing Company in Tacoma, Washington on February 14. Eric Hahn, Vice President of Organizational Development at General Plastics and chair the Tacoma-Pierce County Workforce Development Council welcomed the Governor and Alfie Alvarado-Ramos, Director of Department of Veteran Affairs. Linda Nguyen, CEO at WorkForce Central, discussed with Governor Inslee the programs and services provided to businesses and job seekers, including veterans in Pierce County.
General Plastics has been recognized for its strong track record of hiring veterans. Inslee has proposed a tax credit to incentivize veteran hiring as part of the "Working Washington Agenda" he rolled out this month.
Inslee toured the facility and held a roundtable with employees to discuss ideas for encouraging businesses to hire veterans. General Plastics employs 187 employees, of which 25 are veterans or 13 percent of the company's workforce. The roundtable consisted of veterans from a range of positions in the company including engineers, technicians, sales, supervisors, production, and sales.
"We appreciate the governor's continued focus on the Aerospace and Defense industry and we are committed to hiring as many skilled veterans that re-enter the workforce," said Bruce Lind, President at General Plastics.
About General Plastics Manufacturing Company
Tacoma, Washington-based General Plastics has been a leading innovator in the plastics industry for more than 70 years. The company develops and manufactures rigid and flexible polyurethane foam products, which include its signature LAST-A-FOAM® brand series and build-to-print composite parts. Through its network of distributors, General Plastics exports products to 25-plus countries for the aerospace and defense, nuclear containment, composite core, prototype and modeling, construction, dimensional signage, testing, marine, and renewable energies industries. General Plastics is certified to ISO 9001:2008/AS9100C and meets such demanding quality systems as NQA-1, Mil-I-45208A and Boeing Company D6-82479. Visit http://www.generalplastics.com.