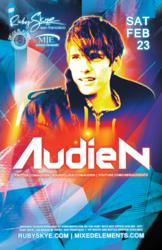 We are gearing up for a huge party with an artist we can't wait to see perform
San Francisco, CA (PRWEB) February 22, 2013
San Francisco electronic dance music hot spot Ruby Skye in conjunction with Mixed Elements is holding a one night only exclusive event with popular trance music artist Audien headlining. Audien is spinning all of his best tracks and making a special mix just for his stint at Ruby Skye.
Audien is performing at Ruby Skye Saturday, February 23. Doors open at 9 pm.
"We are gearing up for a huge party with an artist we can't wait to see perform," said Ross Wolpinsky of Ruby Skye. Audien is a music prodigy and we know this show will be one to remember.
Audien just turned 21 in January and has already made a huge name for his self in the electro-dance world at such a young age. This budding artist is has dance music fans all over the country buzzing.
For more information about Audien's performance at Ruby Skye, or to inquire about VIP booths or bottle service reservations visit RubySkye.com or call (415) 693-0777. Ruby Skye is located at 420 Mason Street at Geary in San Francisco.
About Ruby Skye Nightclub San Francisco
Ruby Skye, the premier San Francisco nightclub & concert venue. It is also one of the most-visited, Bay Area clubs and host to both local and international DJs who enjoy performing San Francisco house music, electronic music and more. The 15,000 square-foot historic building housing the club (est. 1890) offers four distinctively different, luxurious areas for entertaining that can be combined to accommodate up to 900 guests. It also features "414 Boutique Lounge," an elegant and private lounge where guests can enjoy fine cognac in Old World elegance. While in San Francisco please also visit Slide nightclub which is right next door to Ruby Skye. Slide is a refurbished speakeasy initially built during the prohibition era where patrons actually used a slide to get from the businesses front (a convenience store) to the party downstairs.