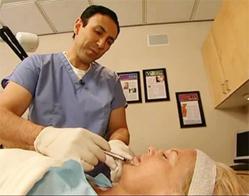 Los Angeles, California (PRWEB) February 23, 2013
According to a January 27, 2013 BBC article, the latest U.K. trend in fat treatment is to have it injected rather than removed. As reported by the British Association of Aesthetic Plastic Surgeons (BAAPS), surgeries like liposuction decreased by 10% last year, while fat transfer procedures have increased by the same amount. (Go to: goo.gl/JT88W)
Fat transfer treatments are designed to transplant fat from one body part to a different location in the body, most commonly the face. Typically, two treatments will be performed over a six-month period of time. It is, however, a progressive process. Results are not immediate and are most likely to be seen after a few treatments.
"These statistics are interesting," says Dr. Ourian, Medical Director of Epione Beverly Hills, "but I don't believe they reflect what's happening in U.S. aesthetic medicine practices. I personally see far more patients interested in liposuction than fat transfer procedures."
The report goes on to say that in the U.K. tummy tucks and liposuction surgeries both decreased by more than 10%. On the other hand, procedures for the face increased, including brow lifts by 17%, eyelid surgery by 13%, and facelifts by 14%.The president of BAAPS speculated that the drop in body shaping procedures was the result of more Britons heading into the gym to work off their extra pounds.
Dr. Ourian thinks there might be other factors at work here. "Over the last few years, there has been a shift in way that people view the body," says Dr. Ourian. "Even though being thin is still important, a curvier figure has made a comeback. Just look at the popularity of Kim Kardashian."
Dr. Ourian has been a pioneer in laser technology and non-invasive aesthetic procedures including Restylane, Juvéderm, Radiesse and Sculptra. These treatments are used for the correction or reversal of a variety of conditions such as acne, acne scars, skin discoloration, wrinkles, stretch marks, varicose veins, cellulite, and others. More information about fat transfer treatments can be found at Epione's website.