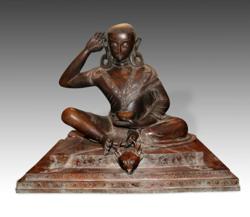 if you hear with your heart then everyday can be Milarepa Day
Chicago, IL (PRWEB) February 22, 2013
This coming Sunday, February 24 is known as Milarepa Day. The well known Chicago gallery Primitive, unveiled a rare, one-of-a-kind statue of Milarepa, the great Buddhist sage and teacher who lived from 1052-1036 A.D. Milarepa Day occurs annually on the first full moon of the Tibetan New Year. Milarepa overcame the transgressions of his youth to achieve enlightenment and liberation in a single lifetime, a superhuman achievement by Buddhist standards. He was known as "The Great Teacher," and during his life spontaneously created songs expressing true spiritual understanding, insight, devotion and beauty. Those songs were captured in a book entitled "The Rain of Wisdom," one of the most famous books in Tibetan literature. On Milarepa Day, his life is celebrated by reciting his wisdom songs as a means of conveying his teachings. The statue of Milarepa put on display by Primitive is from its extensive collection of Tibetan and Chinese art and was created during the 19th century in copper using the lost wax process.
In unveiling the statue for the public, the gallery published the following statement:
Sunday is Milarepa Day, which celebrates the life of the great Buddhist Yogi and teacher. You won't see flower covered floats rolling down city streets followed by marching bands. In short, there won't be a Milarepa Day parade, although the world might be a better place if the day was celebrated with more fanfare. Milarepa was nefarious when he was young, using sorcery to commit evil deeds. He dropped bad karma bombs all over the place, but had enough of a conscience to be remorseful. So he set out to correct his ways, and eventually found contentment, enlightenment and liberation in the course of one lifetime – meaning there is hope for everyone.
Glen Joffe, the owner of Primitive, said, "If you look closely at this statue of Milarepa you will see him listening closely to whatever you have to say. He doesn't need to speak to impart his lesson. He says it is never too late. There is always hope. Change is possible. Just listen, and if you hear with your heart then everyday can be Milarepa Day."
About Primitive: Primitive is an established gallery located in downtown Chicago presenting exclusive as well as one-of-a-kind collections of furniture, artifacts, textiles, jewelry, fashion and artwork from all over the world. Whether you visit in-person or on the web, you will find a colorful mosaic of authentic collections brought from some of the world's hardest to reach places. Everything offered at Primitive has a story, history, purpose and design heritage, and comes from the hand and heart.