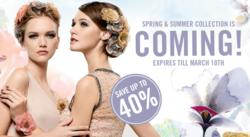 Oasap.com will still take street fashion as its main style, but we will also introduce some elements of princess series and mori girl series.
New York, NY (PRWEB) February 25, 2013
The OASAP LTD, the international online fashion company, has appointed Miss Yuki as its new Brand Director, reporting into the company's VP of Marketing Mr. Sanji. Miss Yuki is a high-profile brand creative talent in fashion field with a wealth of experience in factories and online stores.
In her new role, Miss Yuki will have responsibility for all developmental aspects of the brand in all catalogs, which includes apparel, bag, shoes and jewelers. Her remit will also include digital media, social media and sponsorship.
Currently, OASAP Company is to do a long-term planning of strategic in the international online fashion field. "We are very excited that Yuki can join our company, she is well-known in the industry because of her outstanding brand recognition, brand development and management capabilities. She will inject fresh blood to our management team." OASAP CEO, Mr. Moore commented that, "We believe Yuki will provide a strong support for the implementation of our new strategy."
It is reported that Miss Yuki has started her new job, obviously, she has a natural enthusiasm and deep understanding of women's fashion after she worked many years in the fashion field, she describes her new work: "OASAP brand indicated to me that they have a whole new perspective of international fashion, they want to lead street fashion as the new darling of the global fashion industry and bring new visual impact and minimalist fashion experience to global fashionistas. I can feel their enthusiasm, and I look forward to joining OASAP team leading the development of one of the world's greatest and most valuable brands."
For Yuki, the first work to proceed for OASAP is to release the women clothing series of spring and summer 2013. "Oasap.com will still take street fashion as its main style, but we will also introduce some elements of princess series and mori girl series", Yuki began gushing about her "policy agenda", "We will attract the eyes from all of those girls who love beauty and love fashion. Our upcoming products will include not only the street modish dress and shirts but also elegant princess dress and also the blazer for career women, of course, we will not leave out the sweaters and leggings for mori girls, and it's necessary for these pieces of sexy lace skirt and hot edging jeans in the summer."
But apparently, to achieve the great development of a fashion brand such as Oasap,Miss Yuki also has a lot of work to do, and we expect her to go further and better.
ABOUT US
OASAP IS: A High-street Fashion Online store
OASAP Likes to: Deliver fashion & love!
OASAP is a global online store dedicated to high-street fashion by offering various kinds of women's apparel, bags, shoes, jewellery, accessories, beauty products, etc.
OASAP was founded in late 2011, and has already grown to the leader of high fashion online stores. We keep updating products at a high rate every day. Now we update more than 600 new products each week. Those products mentioned definitely belong to the latest fashion trend.
OASAP's mission is to make you close to the planet's most cutting-edge fashion, no matter where you are or what class or age group you are in. Pursuing fashion is the right of every woman.