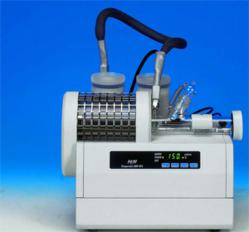 This video makes sense of the KF Evaporator and shows it's easy to use.
Fairfax ,VA (PRWEB) February 27, 2013
As part of the CSC Scientific product offering in the moisture measurement niche, the company supplies instruments for Karl Fischer titration. CSC offers a continuing program of educational and operational material about its products. As part of this program the Company published a video on the use and operation of the Karl Fischer Evaporator/Oven.
Karl Fischer Titration is a technique for determining moisture content. The technique is used for materials that are a mixture of volatiles and moisture or have a strong physical water bond. Some of these materials require a high temperature to break the bond and release the water. These materials, such as plastic pellets, require the Karl Fischer Evaporator/ Oven.
CSC has published an article discussing the applications that require this type of Evaporator/Oven. This article, "Do I Need A Karl Fischer Oven?" can be seen here.
In operation, a sample is weighed. The sample is inserted into a high temperature oven. An inert gas, usually nitrogen, is passed through the oven and then into the Karl Fischer instrument's measuring cell. The gas moves the moisture that is driven out of the sample by the high temperature in the Evaporator/Oven and carries it to the measuring cell.
Check out the Video at KF Evaporator/Oven, for a visual representation of the applications and operation of the Karl Fischer Evaporator/Oven.