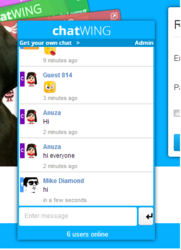 Chicago, IL (PRWEB) February 23, 2013
Study groups are now being outsourced in many ways possible because they help websites and companies achieve specific purposes. This fact became the basis of Chatwing's core online strategy. Chatwing reached out to study groups by introducing a reliable chat app that can improve the connectivity rate of web users. The chat tool, embeddable by nature, is meant to reach thousands of people and niches in any given time.
Chatwing's simple chat box banks on connectivity rate because the developers believe that people should gain information from each other. Participants from study groups can enjoy wide-scale discussions in the chatroom because the capacity can reach thousands. To top that, the chat app tool has social media leverage, allowing visitors to log in with their Facebook and Twitter accounts. Study groups can benefit from this because they can find new and reliable information in the world of social media. Moreover, participants can find advanced references for their studies.
The Chatwing tool has been subjected to many platform tests during the early months of 2012. Through these experiments, the developers were able to enhance the overall functionality of the chatroom. Upgrades were introduced one by one, fresh from the feedbacks of bloggers and web users.
The company has also gathered new feedbacks from study group participants who have used the chatroom tool. Most feedbacks were related to the application's ease of access, functionality, real-time communication leverage, and comprehensive chat software support system. Chatwing ensures its clients that more helpful features will be introduced in the coming months.
About Chatwing.com
Chatwing.com specializes in the new field of website chat. Over years, the development team has introduced live chat widget for hundreds and thousands of blogs. The application bridges people from many parts of the world, creating global synergy through the Internet. The shout box can be installed in just seconds, and it can be used for varying purposes such as leisure and Internet marketing. It also allows a user to customize the size, color, and name of the widget.